---
When New York Times reporter James Risen published his previous book, State of War, the Times ended its delay of over a year and published his article on warrantless spying rather than be scooped by the book. The Times claimed it hadn't wanted to influence the 2004 presidential election by informing the public of what the President was doing. But this week a Times editor said on 60 Minutes that the White House had warned him that a terrorist attack on the United States would be blamed on the Times if one followed publication -- so it may be that the Times' claim of contempt for democracy was a cover story for fear and patriotism. The Times never did report various other important stories in Risen's book.
One of those stories, found in the last chapter, was that of Operation Merlin -- possibly named because only reliance on magic could have made it work -- in which the CIA gave nuclear weapon plans to Iran with a few obvious changes in them. This was supposedly supposed to somehow slow down Iran's nonexistent efforts to build nuclear weapons. Risen explained Operation Merlin on Democracy Now this week and was interviewed about it by 60 Minutes which managed to leave out any explanation of what it was. The U.S. government is prosecuting Jeffrey Sterling for allegedly being the whistleblower who served as a source for Risen, and subpoenaing Risen to demand that he reveal his source(s).
The Risen media blitz this week accompanies the publication of his new book, Pay Any Price. Risen clearly will not back down. This time he's made his dumbest-thing-the-CIA-did-lately story the second chapter rather than the last, and even the New York Times has already mentioned it. We're talking about a "torture works," "Iraq has WMDs," "let's all stare at goats" level of dumbness here. We're talking about the sort of thing that would lead the Obama administration to try to put somebody in prison. But it's not clear there's a secret source to blame this time, and the Department of So-Called Justice is already after Sterling and Risen.
Sterling, by the way, is unheard of by comparison with Chelsea Manning or Edward Snowden or the other whistleblowers Risen reports on in his new book. The public, it seems, doesn't make a hero of a whistleblower until after the corporate media has made the person famous as an alleged traitor. Sterling, interestingly, is a whistleblower who could only be called a "traitor" if it were treason to expose treason, since people who think in those terms almost universally will view handing nuclear plans to Iran as treason. In other words, he's immune from the usual attack, but stuck at the first-they-ignore-you stage because there's no corporate interest in telling the Merlin story.
So what's the new dumbness from Langley? Only this: a gambling-addicted computer hack named Dennis Montgomery who couldn't sell Hollywood or Las Vegas on his software scams, such as his ability to see content in videotape not visible to the naked eye, sold the CIA on the completely fraudulent claim that he could spot secret al Qaeda messages in broadcasts of the Al Jazeera television network. To be fair, Montgomery says the CIA pushed the idea on him and he ran with it. And not only did the CIA swallow his hooey, but so did the principals committee, the membership of which was, at least for a time: Vice President Dick Cheney, former National Security Advisor Condoleezza Rice, So-Called Defense Secretary Donald Rumsfeld, Secretary of State Colin Powell, CIA Director George Tenet, and Attorney General John Ashcroft. Tenet plays his usual role as dumber-than-a-post bureaucrat in Risen's account, but John Brennan is noted as having been involved in the Dennis Montgomery lunacy as well. The Bush White House grounded international flights as a result of Montgomery's secret warnings of doom, and seriously considered shooting planes out of the sky.
When France demanded to see the basis for grounding planes, it quickly spotted a steaming pile of crottin de cheval and let the U.S. know. So, the CIA moved on from Montgomery. And Montgomery moved on to other contracts working on other horse droppings for the Pentagon. And nothing shocking there. "A 2011 study by the Pentagon," Risen points out, "found that during the ten years after 9/11, the Defense Department had given more than $400 billion to contractors who had previously been sanctioned in cases involving $1 million or more in fraud." And Montgomery was not sanctioned. And we the people who enriched him with millions weren't told he existed. Nothing unusual there either. Secrecy and fraud are the new normal in the story Risen tells, detailing the fraudulent nature of drone murder profiteers, torture profiteers, mercenary profiteers, and even fear profiteers -- companies hired to generate hysteria. So forcefully has the dumping of money into militarism been divorced in public discourse from the financial burden it entails that Risen is able to quote Linden Blue, vice chairman of General Atomics, criticizing people who take money from the government. He means poor people who take tiny amounts of money for their basic needs, not drone makers who get filthy rich off the pretense that drones make the world safer.
The root of the problem, as Risen sees it, is that the military and the homeland security complex have been given more money than they can reasonably figure out what to do with. So, they unreasonably figure out what to do with it. This is compounded, Risen writes, by fear so extreme that people don't want to say no to anything that might possibly work even in their wildest dreams -- or what Dick Cheney called the obligation to invest in anything with a 1% chance. Risen told Democracy Now that military spending reminded him of the Wall Street banks. In his book he argues that the big war profiteers have been deemed too big to fail.
Risen tells several stories in Pay Any Price, including the story of the pallets of cash. Of $20 billion shipped to Iraq in $100 bills, he writes, $11.7 billion is unaccounted for -- lost, stolen, misused, or dumped into a failed attempt to buy an election for Ayad Allawi. Risen reports that some $2 billion of the missing money is actually known to be sitting in a pile in Lebanon, but the U.S. government has no interest in recovering it. After all, it's just $2 billion, and the military industrial complex is sucking down $1 trillion a year from the U.S. treasury.
When Risen, like everyone else, cites the cost of recent U.S. wars ($4 trillion over a decade, he says), I'm always surprised that nobody notices that it is the wars that justify the "regular" "base" military spending of another $10 trillion each decade at the current pace. I also can't believe Risen actually writes that "to most of America, war has become not only tolerable but profitable." What? Of course it's extremely profitable for certain people who exert inordinate influence on the government. But "most of America"? Many (not most) people in the U.S. have jobs in the war industry, so it's common to imagine that spending on war and preparations for war benefits an economy. In reality, spending those same dollars on peaceful industries, on education, on infrastructure, or even on tax cuts for working people would produce more jobs and in most cases better paying jobs -- with enough savings to help everyone make the transition from war work to peace work. Military spending radically increases inequality and diverts funding from services that people in many less-militarized nations have. I also wish that Risen had managed to include a story or two from that group making up 95% of U.S. war victims: the people of the places where the wars are waged.
But Risen does a great job on veterans of U.S. torture suffering moral injury, on the extensiveness of waterboarding's use, and on a sometimes comical tale of the U.S. government's infiltration of a lawsuit by 9/11 families against possible Saudi funders of 9/11 -- a story, part of which is given more context in terms of its impact in Afghanistan in Anand Gopal's recent book. There's even a story with some similarity to Merlin regarding the possible sale of U.S.-made drones to U.S. enemies abroad.
These SNAFU collection books have to be read with an eye on the complete forest, of course, to avoid the conclusion that what we need is war done right or -- for that matter -- Wall Street done right. We don't need a better CIA but a government free of the CIA. That the problems described are not essentially new is brought to mind, for me, in reading Risen's book, by the repeated references to Dulles Airport. Still, it is beginning to look as if the Dulles brothers aren't just a secretive corner of the government anymore, but the patron saints of all Good Americans. And that's frightening. Secrecy is allowing insanity, and greater secrecy is being employed to keep the insanity secret. How can it be a "State Secret" that the CIA fell for a scam artist who pretended to see magical messages on Al Jazeera? If Obama's prosecution of whistleblowers doesn't alert people to the danger, at least it is helping sell Jim Risen's books, which in turn ought to wake people up better than a middle-of-the-night visit in the hospital from Alberto Gonzales and Andrew Card.
There's still a thin facade of decency to be found in U.S. political culture. Corrupt Iraqi politicians, in Risen's book, excuse themselves by saying that the early days of the occupation in 2003 were difficult. A New York Times editor told 60 Minutes that the first few years after 9/11 were just not a good time for U.S. journalism. These should not be treated as acceptable excuses for misconduct. As the earth's climate begins more and more to resemble a CIA operation, we're going to have nothing but difficult moments. Already the U.S. military is preparing to address climate change with the same thing it uses to address Ebola or terrorism or outbreaks of democracy. If we don't find people able to think on their feet, as Risen does while staring down the barrel of a U.S. prison sentence, we're going to be in for some real ugliness.
The Nobel Peace Prize is required by Alfred Nobel's will, which created it, to go to "the person who shall have done the most or the best work for fraternity between nations, for the abolition or reduction of standing armies and for the holding and promotion of peace congresses." The Nobel Committee insists on awarding the prize to either a leading maker of war or a person who has done some good work in an area other than peace.
The 2014 prize has been awarded to Kailash Satyarthi and Malala Yousafzay, which is not a person but two people, and they have not worked for fraternity between nations or the abolition or reduction of standing armies but for the rights of children. If the peace prize is to be a prize for random good works, then there is no reason not to give it to leading advocates for the rights of children. This is a big step up from giving it to leading makers of war. But then what of the prize for peace and the mission of ending war that Nobel included in his will in fulfillment of a promise to Bertha von Suttner?
Malala Yousafzay became a celebrity in Western media because she was a victim of designated enemies of Western empire. Had she been a victim of the governments of Saudi Arabia or Israel or any other kingdom or dictatorship being used by Western governments, we would not have heard so much about her suffering and her noble work. Were she primarily an advocate for the children being traumatized by drone strikes in Yemen or Pakistan, she'd be virtually unknown to U.S. television audiences.
But Malala recounted her meeting with U.S. President Barack Obama a year ago and said, "I also expressed my concerns that drone attacks are fueling terrorism. Innocent victims are killed in these acts, and they lead to resentment among the Pakistani people. If we refocus efforts on education, it will make a big impact." So, she actually advocated pursuing education rather than war, and yet the Nobel Committee had not a word to say about that in announcing its selection, focusing on eliminating child labor rather than on eliminating war. The possibility exists then that either of this year's recipients might give an antiwar acceptance speech. There has, after all, only been one pro-war acceptance speech, and that was from President Obama. But many speeches have been unrelated to abolishing war.
Fredrik S. Heffermehl, who has led efforts to compel the Nobel Committee to give the peace prize for peace, said on Friday, "Malala Yousafzay is a courageous, bright and impressive person. Education for girls is important and child labor a horrible problem. Worthy causes, but the committee once again makes a false pretense of loyalty to Nobel and confuses and conceals the plan for world peace that Nobel intended to support.
"If they had wished to be loyal to Nobel they would have stressed that Malala often has spoken out against weapons and military with a fine understanding of how ordinary people suffer from militarism. Young people see this more clearly than the grown ups."
The leading contenders for this year's prize, as speculated in the media, included the Pope who has in fact spoken against all war, abandoning the "just war" idea; and some advocate or other for Japan's Article Nine which forbids war and ought to be a model for other nations but is being threatened in Japan instead. These recipients would at least have bordered on Nobel's ideal, as perhaps might be said for last year's recipient, the Organisation for the Prohibition of Chemical Weapons.
Also on the list was a Russian newspaper supportive of Western aggression, the President of Uruguay for legalizing marijuana, Edward Snowden for leaking evidence of U.S. spying, Denis Mukwege for helping victims of sexual violence, and Chelsea Manning for exposing U.S. war crimes. Manning would have made a certain amount of sense, and her work has probably gone some way toward discouraging war. The same might be said, to a lesser degree, of Snowden. But none of these fit the description in Nobel's will. If the peace prize were actually awarded to a leading peace activist, at this point the world would be rather scandalized and scratch its collective head in wonderment at what the significance could be in that person's work.
Look at this list of recent recipients of a prize meant for peace:
The European Union
Ellen Johnson Sirleaf, Leymah Gbowee and Tawakkol Karman
Liu Xiaobo
Barack H. Obama
Martti Ahtisaari
Intergovernmental Panel on Climate Change (IPCC) and Albert Arnold (Al) Gore Jr.
Muhammad Yunus and Grameen Bank
There you have the two leading makers of war in the world: Obama and the E.U. You have advocates for green energy and small loans and women's rights and human rights. Martti Ahtisaari's prize announcement actually quoted from Nobel's will, but he himself supported NATO and Western militarism.
While good work in other areas can in fact contribute to peace, it is unlikely to do so in the absence of recognition of the goal of peace and of work directly aimed at abolishing war.
The National Priorities Project, a U.S. organization that actually works against militarism, was nominated this year, as no doubt were others relevant to the purpose for which the peace prize was created.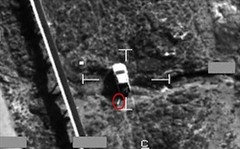 By David Swanson, originally published by
Ron Paul Institute for Peace and Prosperity
Last year, public pressure played a big role in stopping US missile strikes on Syria. The biggest difference between then and now was that televisions weren't telling people that ISIS might be coming to their neighborhood to behead them. There were other, smaller differences as well: Britain's opposition, Russia's opposition, and the difficulty of explaining to Americans that it now made sense to join a war on the same side as al Qaeda.

But there's another big difference between last year and this year. Last year was not a Congressional election year. With elections coming this November, Congress declared an early vacation in September and fled town in order to avoid voting a new war up or down. It did this while fully aware that the President would proceed with the war illegally. Most Congress members, including House Speaker John Boehner and Senate Leader Harry Reid, believe that by allowing a war to happen without explicitly voting for or against it they can best win our votes for re-election without offending their funders.

Congress members have good reason to think that way. Numerous organizations and individuals are dumping endless energy and resources into trying to elect either Democrats or Republicans, regardless of their policies. Big groups on the left have told me that they will not have any time for opposing war until the elections are over, at which point they'll be happy to "hold accountable" any of the Democrats they've just reelected. There are organizations who do the same thing for Republicans.

When war was made the top election issue in exit polls in 2006, Democrats took power and their leader in the House, Rahm Emanuel, openly told the Washington Post that they would keep the war in Iraq going in order to campaign against it again in 2008. And so they did. Republicans elected opposing war in 2010 have been more rhetorical than substantive in their "opposition."

The current war, and the endless war it is part of, must be opposed by people across the political spectrum who put peace ahead of party. ISIS has a one-hour video asking for this war. Giving it to them, and boosting their recruitment, is insanity. Ending insane policies is not a left or right position. This is a war that involves bombing the opposite side in Syria from the side we were told we had to bomb a year ago, and simultaneously arming the same side that the U.S. government is bombing. This is madness. To allow this to continue while mumbling the obvious truth that "there is no military solution" is too great an evil to fit into any lesser-evil electoral calculation.

This war is killing civilians in such large numbers that the White House has announced that restrictions on killing civilians will not be followed. This war is being used to strip away our rights at home. It's draining our economy. It's impoverishing us -- primarily by justifying the routine annual spending of roughly $1 trillion on war preparations. It's endangering us by generating further hatred. And all of this destruction, with no up-side to be found, is driven by irrational fear that has people telling pollsters they believe this war will endanger them and they're in favor of it.

According to the Congressional Research Service 79% of weapons shipments to Middle Eastern countries are from the United States, not counting arms given to allies of ISIS or used by the US military. Rather than arming this region to the teeth and joining in wars with US weapons on both sides, the United States could arrange for and lead an arms embargo. It could also provide restitution for what it has done in recent years, including the destruction of Iraq that allowed the creation of ISIS. Making restitution in the form of actual aid (as opposed to "military aid") would cost a lot less than lobbing $2 million missiles at people who view them as recruitment posters and tickets to martyrdom. That shift would also begin to make the United States liked rather than hated.

We won't get there unless people whose souls are un-owned by political parties take over town hall meetings and let Congress members know that they must work to end this war if they want to earn our votes.

--
David Swanson is an author, activist, journalist, and radio host. He is director of WorldBeyondWar.org and campaign coordinator for RootsAction.org.
Dostoievski once had a character imagine what a head would think if for some seconds it were aware of having been cut off by an executioner's guillotine, or if somehow it were aware for a full minute, or even for five minutes.
I should think such a head would think thoughts entirely dependent on the circumstances and that the type of blade that committed the murder wouldn't affect the thoughts too greatly.
I loved you, it might think, thinking of its loved ones. I did well there, if might think, thinking of its accomplishments. I'm sorry, it might think, dwelling momentarily on its deepest regrets -- as likely as not relatively trivial incidents in which the head together with its body had hurt someone's feelings.
I've died in a war, the head might think, despite opposing wars. I took the risk and enjoyed the thrill, yet the injustice remains. I didn't launch the war. I didn't make millions off it. I didn't win votes from it. I tried to tell people what it was, and here I am no better than a soccer ball about to cease existing as a consciousness.
As the beheaded head's remaining seconds stretched into what seemed to it a long period of time, it might be struck by the absurdity of the situation, and it might be horrified by the barbarism. I was supposed to not be the news, the head might think, and now I am the news. After pretending not to be human, my humanity -- once ended -- will now be used as a reason to escalate the war. No one will ask me. How could they?
But no one ever asked me, did they, even when I was connected to a neck and arms and legs? I reported on this battle or that atrocity. But did anyone ever ask whether the entire enterprise made me ashamed of my species? Did anyone ever ask whether the justifications used were any better than lunacy? My country decided 100 years ago that it would dominate the Middle East for oil -- oil that will destroy the world itself if the wars don't.
In recent years my country destroyed Iraq, killing a half-million to a million-and-a-half people, leaving behind a hell on earth, including a government that both beheads people and bombs them, as well as handing over weaponry to this gang that beheaded my body -- a gang that could only have arisen in the hell on earth that Washington created and which will never match Washington's scale of killing if it keeps beheading and crucifying for decades.
So what does the government of the people who read my reports do? It sends in more weapons to the close allies of ISIS and simultaneously starts bombing ISIS just one year after screaming that it must bomb the Syrian government that ISIS is fighting. And ISIS makes a movie demanding heavier U.S. attacks, and the U.S. obliges and launches heavier attacks. And ISIS recruitment soars, the weapons companies stocks soar, and I get my body cut off.
And because my body is gone from me, and because the war is begun, and because it is guaranteed to get worse rather than better, brave drone pilots will be told that they must continue the war so as not to offend themselves, and as they commit suicide after murdering people with joysticks, still more pilots will be called on so that the first ones will not have killed themselves in vain.
Why when we're alive do we act as if the whole thing isn't insane? Is it a function of our habit of acting as if our existence isn't insane? We puff ourselves up, don't we? We talk solemnly of strategy, energetically ignoring the intentional absurdity of the whole doomed project, just as we eat and eat and eat without ever once wondering what the junk we are eating will do to the worms who will dine on our flesh.
What if the world comes to its senses next week, the head might think as the world grows blurry around it. How will I feel to have missed it by so little? Well, I'll feel nothing of course, and so I do hope that it will happen. I really do. This man who's cut off my body has a loud laugh. He was sad yesterday morning and I could not ask him why. I wonder if people back home know that he thinks Americans can only understand the language of violence, so there's no sense talking to them.
https://soundcloud.com/davidcnswanson/talk-nation-radio-mark-weisbrot-latin-america-has-gone-left-us-cant-stop-it
Mark Weisbrot is co-director of the Center for Economic and Policy Research, in Washington, D.C. He writes columns for Al Jazeera and the Guardian. We discuss the leftward movement of Latin American governments, and the unsuccessful efforts of the U.S. government to overthrow those governments. Read Mark's columns at http://www.cepr.net/index.php/clips/mark-weisbrots-op-eds
Total run time: 29:00
Host: David Swanson.
Producer: David Swanson.
Music by Duke Ellington.
Download from Archive or LetsTryDemocracy.
Pacifica stations can also download from AudioPort.
Syndicated by Pacifica Network.
Please encourage your local radio stations to carry this program every week!
Please embed the SoundCloud audio on your own website!
Past Talk Nation Radio shows are all available free and complete at
http://TalkNationRadio.org
Wednesday, Oct 15 at 7:15 p.m. at Naro Cinema in Norfolk, Va.




LAST DAYS IN VIETNAM

Award-winning independent filmmaker Rory Kennedy's new film chronicles a story few of us have heard before. During the chaotic final days of the Vietnam War, the North Vietnamese Army closes in on Saigon as South Vietnamese resistance crumbles. The prospect of an official evacuation of the remaining Americans and their South Vietnamese allies becomes hopelessly delayed by Congressional gridlock and a delusional U.S. Ambassador. With the clock ticking and the city under fire, a number of Americans take matters into their own hands, engaging in unsanctioned and often makeshift operations in a desperate effort to save as many South Vietnamese lives as possible. (98 mins)
http://lastdaysinvietnam.com

David Swanson, RootsAction campaign coordinator and WorldBeyondWar director, will return to speak at the Naro from his home in Charlottesville. He is a nationally renowned journalist, teacher, peace activist, and author of War Is A Lie, When The World Outlawed War, and War No More: The Case For Abolition.

Visit http://narocinema.com
The phrase "war myths" these days is generally taken to mean such nonsense as that war will make us safe, or civilians won't be killed, or surgical strikes will kill more enemies than they produce, or prosperity and freedom will follow war-making, etc. But I wonder whether "war myths" shouldn't be taken more literally, whether we don't in fact have a bunch of warmakers believing that they are Odysseus.
Remember Odysseus, the great Greek hero who went on lots of thrilling adventures on his way home from Troy and kicked a bunch of interloping suitors of his lonely wife out of his house in Ithaca when he got home?
Well, Odysseus didn't actually kick them out, did he? Do you remember what actually happened? Odysseus could have ordered them out upon his return. He could have announced his approach and had them gone before he arrived. Instead, he disguised himself and entered his house unannounced. He secretly hid all the weapons except those for himself and his son and loyal servants. He secretly blocked every door. The suitors were unarmed and trapped when Odysseus revealed who he was and started murdering them.
The suitors offered to more than repay him for what they had stolen from his house, to apologize, to try to make things right. Odysseus, who had a goddess making sure he succeeded in every detail, declined all offers and murdered every man but those his son said were loyal. He beheaded. He tortured. He dismembered. He cut off faces and cut out organs and fed bits of people to dogs. And then, seeing as how he was on such a glorious killing spree, he asked his wife's head servant whether any of the servant women had been disrespectful or misbehaved in any way. Those who had were quickly identified, and Odysseus murdered them immediately.
And there was a cute reunion scene with his wife, and everyone lived happily ever after, right?
Well, actually, there's a bit of the story we tend to overlook. Odysseus realized that the giant pile of corpses in his house had friends and relatives who would seek revenge exactly as barbarically as he had. So his goddess friend cast a spell of forgiveness on all of them, and by that means there was peace.
Now, in the world of the myth one might well wonder why Athena didn't just cast that spell on Odysseus the day before, let the suitors repay him, and skip the blood bath. But in the world of reality, one must ask whether our masters of war believe Athena is going to help them too.
They revenge themselves with righteous brutality on various dictators who have lapsed in their loyalty or death squads that have lost their utility, and the blowback is predictable, predicted, and tragic. No goddess ever shows up to cast a spell of forgiveness on victims' friends and family.
War supporters know there's no goddess in their fight, but often they begin to imagine that the other side will find forgiveness by seeing the justness of the war against them -- although I don't believe there are any examples of this actually happening.
War propaganda maintains that the other side only speaks the language of violence, so violence will communicate to that other side our grievances, our suffering, our justifiable outrage, and our desire for peace. But of course, violence is not a language, not even when dressed up in Homer's art. A language is a substance that can be thought in. Violence cannot embody thought, only fantasy.
The happy little war that turned Libya into hell three years ago was called Operation Odyssey Dawn.
There have been many admirable suggestions put forward to name Obama's latest war:
Operation Enduring Confusion
Operation Rolling Blunder
Operation Iraqi Liberation
Operation We're Indispensable - Guess What That Makes You
Operation Unchanging Hopelessness
But I think the appropriate tag for a mission based on the idea of special holy goodness and power, the idea that mass killing of civilians is justified by outrage at killing of civilians, and the notion that everyone will forgive it afterwards so it won't just make matters worse, is Operation Odysseus' Butcher Shop.
Charles Lewis' book, 935 Lies, would make a fine introduction to reality for anyone who believes the U.S. government usually means well or corporations tend to tell the truth in the free market. And it would make an excellent introduction to the decline and fall of the corporate media. Even if these topics aren't new to you, this book has something to add and retells the familiar quite well.
The familiar topics include the Gulf of Tonkin, the Pentagon Papers, Watergate, the civil rights movement, U.S. aggression and CIA overthrows, Pinochet, Iran-Contra, lying tobacco companies, and Edward R. Murrow. Lewis brings insight to these and other topics, and if he doesn't document that things were better before the 1960s, he does establish that horrible things have been getting worse since, and are now much more poorly reported on.
The New York Times and Washington Post were afraid not to print the Pentagon Papers. Nowadays a typical decision was that of the New York Times to bury its story on warrentless spying in 2004, with the explanation that printing it might have impacted an election. TV news today would not show you the civil rights movement or the war on Vietnam as it did at the time.
Lewis has hope for new media, including the Center for Public Integrity, which he founded in 1989, and which has produced numerous excellent reports, including on war profiteering, and which Lewis says is the largest nonprofit investigative reporting organization in the world.
Points I quibble with:
1. Human Rights Watch as a model media organization? Really?
2. The New America Foundation as a model media organization? Really?
3. Think tanks as a great hope for integrity in public life? Really?
4. After making 935 of the George W. Bush gang's lies a book title, you aren't sure he "knowingly" lied? Seriously?
This is the guy who wanted an excuse to attack Iraq before he had one. He told Tony Blair they could perhaps paint a U.S. plane in U.N. colors, fly it low, and hope for it to get shot at -- after which conversation the two men spoke to the media about how they were trying to avoid war. This was January 31, 2003, and is quite well documented, but I don't think a single reporter who was lied to that day has taken any offense or asked for an apology. This is the president who rushed the war to prevent completion of inspections. This is the president who made dozens of wild claims about weapons without evidence -- in fact with evidence to the contrary.
Not only does overwhelming evidence show us that Bush knew his claims about WMDs to be false, but the former president has shown us that he considers the question of truth or falsehood to be laughably irrelevant. When Diane Sawyer asked Bush why he had claimed with such certainty that there were so many weapons in Iraq, he replied: "What's the difference? The possibility that [Saddam] could acquire weapons, If he were to acquire weapons, he would be the danger." What's the difference? It's the difference between lying and meaning well. This interview is available on video.
5. Why not bring the trend of lying about wars up to date, I wonder. Since I wrote War Is A Lie we've had all the lies about drone wars, the lies about Gadaffi threatening to slaughter civilians, the lies about Iranian nukes and Iranian terrorism, the lies about Russian invasions and attacks in Ukraine, the lies about chemical weapons use in Syria, the lies about humanitarian and barbaric justifications for attacking Iraq yet again. It's hard to even keep up with the pace of the lies. But we ought to be able to properly identify the mother of all lies, and I don't think it was the Gulf of Tonkin.
6. Lewis's model of integrity is Edward R. Murrow. Among Murrow's independent and heroic credentials, according to Lewis, is that he met with President Roosevelt hours after the attack on Pearl Harbor. Now, I take nothing away from Murrow's reporting and the stand he later took for a free press. But why did Lewis bring up this meeting? And once he'd brought it up why did he not mention that Murrow told his wife that night that FDR had given him the "biggest story of my life, but I don't know if it's my duty to tell it or forget it." The Murrow depicted by Lewis would have known what his duty was. Murrow later told John Gunther that the story would put his kid through college if he told it. He never did.
That many people will not immediately know what the story was is testimony to a pattern that Lewis documents. Some lies take many, many years to fall apart. The biggest ones sometimes take the longest.
Here comes another October 7th, time once again for celebrating the International Day of Wars-Start-Easy-But-They're-a-Bitch-to-End. That is, if we can spare a few moments away from celebrating the new wars we're starting.
On this date 13 years ago, the United States attacked Afghanistan, which the U.S. President saw primarily as a step toward attacking Iraq, although — in fairness — God had told him to attack both countries. I asked God about that recently and he said, "You want to see regrets. Oh my God, you should talk to the Nobel Committee about that peace laureate." I didn't have to ask which one, and I didn't ask who his God was, fearing an endless discussion loop.
Way back yonder in 2001 before presidents openly spied on everything, launched wars without a pretense of legality, imprisoned without charge, assassinated at will, and kept enough secrets to have outraged Richard Nixon, the general public wasn't given quite all the information by its beloved televisions. We weren't told the Taliban was willing to turn bin Laden over to a neutral nation to stand trial. We weren't told the Taliban was a reluctant tolerator of al Qaeda, and a completely distinct group. We weren't told the 911 attacks had also been planned in Germany and Maryland and various other places not marked for bombing. We weren't told that most of the people who would die in Afghanistan, many more than died on 911, not only didn't support 911 but never heard of it. We weren't told our government would kill large numbers of civilians, imprison people without trial, hang people by their feet and whip them until they were dead.
We weren't told how this illegal war would advance the acceptability of illegal wars or how it would make the United States hated in much of the world. We weren't given the background of how the U.S. interfered in Afghanistan and provoked a Soviet invasion and armed resistance to the Soviets and left the people to the tender mercies of that armed resistance once the Soviets left. We weren't told that Tony Blair wanted Afghanistan first before he'd get the UK to help destroy Iraq. We certainly weren't told that bin Laden had been an ally of the U.S. government, that the 911 hijackers were mostly Saudi, or that there might be anything at all amiss with the government of Saudi Arabia. And nobody mentioned the trillions of dollars we'd waste or the civil liberties we'd have to lose at home or the severe damage that would be inflicted on the natural environment. Even birds don't go to Afghanistan anymore.
The Taliban was very swiftly destroyed in 2001 through a combination of overwhelming killing power and desertion. The U.S. then began hunting for anyone who had once been a member of the Taliban. But these included many of the people now leading the support of the U.S. regime — and many such allied leaders were killed and captured despite not having been Taliban as well, through sheer stupidity and corruption. Dangling $5,000 rewards in front of poor people produced false-accusations that landed their rivals in Bagram or Guantanamo, and the removal of these often key figures devastated communities, and turned communities against the United States that had previously been inclined to support it. Add to this the vicious and insulting abuse of whole families, including women and children captured and harassed by U.S. troops, and the revival of the Taliban under the U.S. occupation begins to become clear. The lie we've been told to explain it is that the U.S. became distracted by Iraq, but the Taliban revived precisely where U.S. troops were imposing a rule of violence and not where other internationals were negotiating compromises using, you know, words.
This has been a bumbling oblivious and uncomprehending foreign occupation (as they always are) torturing and murdering a lot of its own strongest allies, shipping some of them off to Gitmo — even shipping to Gitmo young boys whose only offense had been being the sexual assault victims of U.S. allies
When Barack Obama became president, there were 32,000 U.S. troops in Afghanistan. He escalated to over 100,000 troops, plus contractors, and has been celebrated for ending the war ever since. Five years have been spent discussing the "drawdown." The U.S. public has been telling pollsters we want all U.S. troops out of Afghanistan "as soon as possible" for years and years. Endless speeches have bragged about ending wars that Obama supposedly "inherited." And yet, there are now 33,000 U.S. troops in Afghanistan, more than when Obama became president. Several NATO allies have wisely departed, but that's the extent of the "drawdown." Measured death and destruction or financial cost, Afghanistan is much more President Obama's war than President Bush's.
Now, Obama has managed to get a new Afghan president to agree to U.S. troops remaining in Afghanistan with immunity from any criminal prosecution, until "2024 and beyond." Obama claims he'll reduce troop levels to 9,800 this year, 6,000 next year, and 1,000 the following year — at which point he'll still be guarding Afghanistan's new president better than he guards the White House.
This has been Obama's plan from Day 1. He's never actually said he would ever end the war; he's just been given endless credit for doing so. But there's a bit of rightwing nonsense in the air these days that, combined with the sheer number of U.S. wars, distracts people from the outrageousness of keeping the war on Afghanistan going for another decade "and beyond." The bit of nonsense is the idea that Iraq has gone to hell because U.S. troops left. In fact, Iraq was a worse hell when U.S. troops were there, and it was the hard work of the U.S. troops and their allies over several years that put Iraq on the path to the hell it now is. Even Obama, who tried desperately to get criminal immunity for U.S. troops in order to leave them in Iraq three years ago, admits that having left them there would have done no good. But surely this bit of counterfactual lunacy — the idea that the troops leaving broke Iraq — helps to stifle our protests and outrage at the latest news from Vietghanistan.
Obama used to be a proud member of the Let's Stop Killing Iraqis and Kill More Afghans Club. Now he's back in Iraq plus Syria killing so many civilians that he's announced that rules for minimizing civilian deaths don't apply. I've got a scheme to help him bamboozle his antiwar supporters back into adoring him. It's easy. It's cheap. It's an unexpected reversal. And at least half the country already thinks he's done it anyway: Get the U.S. Military Out of Afghanistan. Now. Entirely. No Strings Attached.