You are herePeace and War
Peace and War
---
Here comes another October 7th, time once again for celebrating the International Day of Wars-Start-Easy-But-They're-a-Bitch-to-End. That is, if we can spare a few moments away from celebrating the new wars we're starting.
On this date 13 years ago, the United States attacked Afghanistan, which the U.S. President saw primarily as a step toward attacking Iraq, although — in fairness — God had told him to attack both countries. I asked God about that recently and he said, "You want to see regrets. Oh my God, you should talk to the Nobel Committee about that peace laureate." I didn't have to ask which one, and I didn't ask who his God was, fearing an endless discussion loop.
Way back yonder in 2001 before presidents openly spied on everything, launched wars without a pretense of legality, imprisoned without charge, assassinated at will, and kept enough secrets to have outraged Richard Nixon, the general public wasn't given quite all the information by its beloved televisions. We weren't told the Taliban was willing to turn bin Laden over to a neutral nation to stand trial. We weren't told the Taliban was a reluctant tolerator of al Qaeda, and a completely distinct group. We weren't told the 911 attacks had also been planned in Germany and Maryland and various other places not marked for bombing. We weren't told that most of the people who would die in Afghanistan, many more than died on 911, not only didn't support 911 but never heard of it. We weren't told our government would kill large numbers of civilians, imprison people without trial, hang people by their feet and whip them until they were dead.
We weren't told how this illegal war would advance the acceptability of illegal wars or how it would make the United States hated in much of the world. We weren't given the background of how the U.S. interfered in Afghanistan and provoked a Soviet invasion and armed resistance to the Soviets and left the people to the tender mercies of that armed resistance once the Soviets left. We weren't told that Tony Blair wanted Afghanistan first before he'd get the UK to help destroy Iraq. We certainly weren't told that bin Laden had been an ally of the U.S. government, that the 911 hijackers were mostly Saudi, or that there might be anything at all amiss with the government of Saudi Arabia. And nobody mentioned the trillions of dollars we'd waste or the civil liberties we'd have to lose at home or the severe damage that would be inflicted on the natural environment. Even birds don't go to Afghanistan anymore.
The Taliban was very swiftly destroyed in 2001 through a combination of overwhelming killing power and desertion. The U.S. then began hunting for anyone who had once been a member of the Taliban. But these included many of the people now leading the support of the U.S. regime — and many such allied leaders were killed and captured despite not having been Taliban as well, through sheer stupidity and corruption. Dangling $5,000 rewards in front of poor people produced false-accusations that landed their rivals in Bagram or Guantanamo, and the removal of these often key figures devastated communities, and turned communities against the United States that had previously been inclined to support it. Add to this the vicious and insulting abuse of whole families, including women and children captured and harassed by U.S. troops, and the revival of the Taliban under the U.S. occupation begins to become clear. The lie we've been told to explain it is that the U.S. became distracted by Iraq, but the Taliban revived precisely where U.S. troops were imposing a rule of violence and not where other internationals were negotiating compromises using, you know, words.
This has been a bumbling oblivious and uncomprehending foreign occupation (as they always are) torturing and murdering a lot of its own strongest allies, shipping some of them off to Gitmo — even shipping to Gitmo young boys whose only offense had been being the sexual assault victims of U.S. allies
When Barack Obama became president, there were 32,000 U.S. troops in Afghanistan. He escalated to over 100,000 troops, plus contractors, and has been celebrated for ending the war ever since. Five years have been spent discussing the "drawdown." The U.S. public has been telling pollsters we want all U.S. troops out of Afghanistan "as soon as possible" for years and years. Endless speeches have bragged about ending wars that Obama supposedly "inherited." And yet, there are now 33,000 U.S. troops in Afghanistan, more than when Obama became president. Several NATO allies have wisely departed, but that's the extent of the "drawdown." Measured death and destruction or financial cost, Afghanistan is much more President Obama's war than President Bush's.
Now, Obama has managed to get a new Afghan president to agree to U.S. troops remaining in Afghanistan with immunity from any criminal prosecution, until "2024 and beyond." Obama claims he'll reduce troop levels to 9,800 this year, 6,000 next year, and 1,000 the following year — at which point he'll still be guarding Afghanistan's new president better than he guards the White House.
This has been Obama's plan from Day 1. He's never actually said he would ever end the war; he's just been given endless credit for doing so. But there's a bit of rightwing nonsense in the air these days that, combined with the sheer number of U.S. wars, distracts people from the outrageousness of keeping the war on Afghanistan going for another decade "and beyond." The bit of nonsense is the idea that Iraq has gone to hell because U.S. troops left. In fact, Iraq was a worse hell when U.S. troops were there, and it was the hard work of the U.S. troops and their allies over several years that put Iraq on the path to the hell it now is. Even Obama, who tried desperately to get criminal immunity for U.S. troops in order to leave them in Iraq three years ago, admits that having left them there would have done no good. But surely this bit of counterfactual lunacy — the idea that the troops leaving broke Iraq — helps to stifle our protests and outrage at the latest news from Vietghanistan.
Obama used to be a proud member of the Let's Stop Killing Iraqis and Kill More Afghans Club. Now he's back in Iraq plus Syria killing so many civilians that he's announced that rules for minimizing civilian deaths don't apply. I've got a scheme to help him bamboozle his antiwar supporters back into adoring him. It's easy. It's cheap. It's an unexpected reversal. And at least half the country already thinks he's done it anyway: Get the U.S. Military Out of Afghanistan. Now. Entirely. No Strings Attached.
October 3, 2014 — A statement on the current and enduring crisis, by the coordinating committee of WorldBeyondWar.org
SUMMARY
The following is an assessment of the current ISIS crisis. The statement examines: (1) the social context of the destructive violence in Syria and Iraq — where we are; (2) viable nonviolent alternatives — what should be done; and (3) opportunities for civil society to advocate and push for those alternatives — how we can make it happen. The alternatives and pathways toward achieving those are not only preferable from a perspective of humanity, but proven to be more effective.
Graphic beheadings and other quite real stories of horrors committed by a new enemy — ISIS — have led to increased support for U.S. involvement. But a war on ISIS will make things worse for all concerned, following, as it does, a pattern of counterproductive action. Through the course of the so-called global war on terrorism, terrorism has been on the rise.
Nonviolent alternatives to war are abundant, morally superior, and strategically more effective. Some but not all are: apologies for past actions; arms embargoes; a Marshall Plan of restitution for the Middle East; meaningful diplomacy; appropriate conflict resolution responses to terrorism; addressing the immediate crisis with humanitarian intervention; redirecting our energies at home; supporting peace journalism; working through the United Nations; and de-authorizing the war on terror.
No solution by itself will bring peace to the region. Many solutions together can create a strong web of peacebuilding fabric superior to continued war. We cannot expect to make all of the above happen immediately. But by working toward those ends we can achieve the best results as quickly and as lastingly as possible.
We need teach-ins, communications, and education of all sorts. People should know enough facts to give their positions context. We need demonstrations, rallies, sit-ins, town forums, disruptions, and media productions. And if we make this a part of ending the whole institution of war, rather than just a particular war, we may move closer to not having to keep opposing new wars all the time.
WHERE WE ARE
Public opinion on wars in the United States follows a tragic pattern, soaring — sometimes to over a majority — in support of a war when it's new, and then predictably sinking. During most of the 2003-2011 U.S. war on Iraq, a majority in the U.S. said the war should never have been begun. In 2013, public opinion and pressure played a prominent role in preventing the launching of a new U.S. war on Syria. In February 2014, the U.S. Senate rejected legislation that would have moved the United States closer to war with Iran. On July 25, 2014, with the U.S. public against a new U.S. war in Iraq, the House of Representatives passed a resolution that would have required the President to obtain authorization before launching a war (just as the Constitution already requires) had the Senate passed the resolution too. At that distant date of a few months back, it was still possible to talk about an "antiwar mood," to applaud the Catholic peace group Pax Christi for its historic decision to reject "just war" theory, to celebrate the state of Connecticut's creation of a commission to transition to peaceful industries, to point to public support for taxing the rich and cutting the military as the top two solutions whenever the U.S. government and media discussed a debt crisis, and to envision a less-militarized future approaching.
But support for U.S. drone strikes remained relatively high, opposition to Israel's war on Gaza with U.S. weapons remained weak (and in Congress and the White House virtually nonexistent), the CIA was arming Syrian rebels against the overwhelming preference of the U.S. public, and the proposed missile strikes into Syria had not been replaced with any significant effort to create an arms embargo, negotiate a ceasefire, provide major humanitarian aid, or otherwise reject a war-focused foreign policy and economic agenda that had merely been put on hold. Moreover, public opposition to war was weak and ill-informed. Most Americans lacked even a roughly accurate idea of the destruction their government had caused in Iraq, could not name the nations their government was striking with drones, didn't study the evidence that their government had lied about chemical weapons attacks in Syria and threats to civilians in Libya, didn't pay much attention to the human rights abuses or support for terrorism by U.S.-backed kings and dictators, and had been long trained to believe that violence arises out of the irrationality of foreigners and can be cured with greater violence.
Support for a new war was driven by graphic beheadings and other quite real stories of horrors committed by a new enemy: ISIS.[1] This support is as likely to be short-lived as support for other wars has been, barring some dramatic new motivation. And this support has been exaggerated. Pollsters ask whether something should be done and then simply assume that the something is violence. Or they ask whether this type of violence should be employed or that type of violence, never offering any nonviolent alternatives. So, other questions could produce other answers right now; time is likely to change the answers for the better; and education would accelerate that changing.
Opposition to the horrors of ISIS makes perfect sense, but opposition to ISIS as a motivation for war lacks context in every way. U.S. allies in that region, including the Iraqi government and the so-called Syrian rebels, behead people, as do U.S. missiles. And ISIS isn't such a new enemy after all, including as it does Iraqis thrown out of work by the U.S. disbanding of the Iraqi military, and Iraqis brutalized for years in U.S. prison camps. The United States and its junior partners destroyed Iraq, leaving behind sectarian division, poverty, desperation, and an illegitimate government in Baghdad that did not represent Sunnis or other groups. Then the U.S. armed and trained ISIS and allied groups in Syria, while continuing to prop up the Baghdad government, providing Hellfire missiles with which to attack Iraqis in Fallujah and elsewhere. Even opponents of the Saddam Hussein government (which was also put into power by the United States) say there could have been no ISIS had the United States not attacked and destroyed Iraq.
Additional context is provided by the manner in which the U.S. occupation of Iraq temporarily ended in 2011. President Obama withdrew U.S. troops from Iraq when he couldn't get the Iraqi government to give them immunity for any crimes they might commit. He has now obtained that immunity and sent troops back in.
ISIS has religious adherents but also opportunistic supporters who see it as the force resisting an unwanted rule from Baghdad and who increasingly see it as resisting the United States. That's how ISIS wants to be seen. U.S. wars have made the United States so hated in that part of the world, that ISIS openly encouraged U.S. attacks in an hour-long film, provoked them with the beheading videos, and has seen huge recruitment gains since the U.S. began attacking it.[2]
ISIS is in possession of U.S. weaponry provided directly to it in Syria and seized from, and even provided by the Iraqi government. At last count by the U.S. government, 79% of weapons transferred to Middle Eastern governments come from the United States, not counting transfers to groups like ISIS, and not counting weapons in the possession of the United States.
So, the first thing to do differently going forward: stop bombing nations into ruins, and stop shipping weapons into the area you've left in chaos. Libya is of course another example of the disasters that U.S. wars leave behind them — a war in which U.S. weapons were used on both sides, and a war launched on the pretext of a claim well documented to have been false that Gadaffi was threatening to massacre civilians.
So, here's the next thing to do: be very skeptical of humanitarian claims. The U.S. bombing around Erbil to protect Kurdish and U.S. oil interests was initially justified as bombing to protect people on a mountain. But most of those people on the mountain were in no need of rescue, and that justification has now been set aside, just as Benghazi was.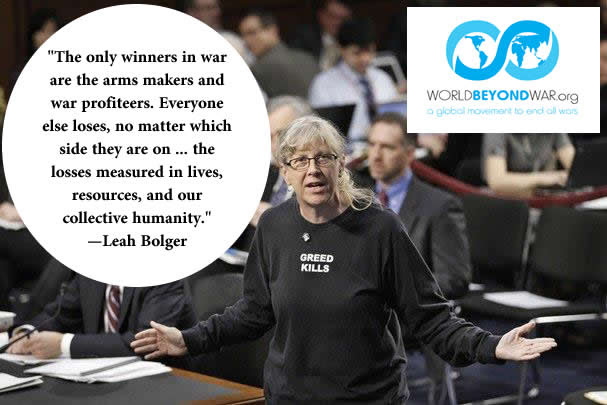 A war on ISIS isn't a bad idea because the suffering of ISIS's victims is not our problem. Of course it's our problem. We are human beings who care about each other. A war on ISIS is a bad idea because it is not only counterproductive, but will make things worse. Through the course of the so-called global war on terrorism, terrorism has been on the rise.[3] This was predictable and predicted. The wars on Iraq and Afghanistan, and the abuses of prisoners during them, became major recruiting tools for anti-U.S. terrorism. In 2006, U.S. intelligence agencies produced a National Intelligence Estimate that reached just that conclusion. Drone strikes have increased terrorism and anti-Americanism in places like Yemen. The new U.S. attacks on ISIS have already killed many civilians. "For every innocent person you kill, you create 10 new enemies," according to General Stanley McChrystal. The White House has announced that strict standards for avoiding large numbers of civilian deaths do not apply to its latest war.
ISIS is fighting against the government of Syria, the same government that President Obama wanted to bomb last year. The United States is arming close allies of ISIS in Syria, while bombing ISIS and other groups (and civilians) in Syria. But the U.S. State Department has not changed its position on the Syrian government. It is entirely possible that the United States will attack both sides of the Syrian war. Even the fact of already attacking the opposite side from a year ago, and the same side you're arming ought to be enough to make anyone ask whether the point is largely to bomb somebody for the sake of bombing somebody. Bombing people is one of the best known methods by which the U.S. government convinces the U.S. media that it is "doing something."
It is tearing down the rule of law, among other things. Without Congressional authorization, President Obama is violating the U.S. Constitution, and his earlier professed belief. "The President does not have power under the Constitution to unilaterally authorize a military attack in a situation that does not involve stopping an actual or imminent threat to the nation," said Senator Barack Obama quite accurately.
With a Congressional authorization, this war would still violate the U.N. Charter and the Kellogg-Briand Pact, which are the supreme law of the land under Article VI of the U.S. Constitution.[4] The British Parliament voted to approve assistance in attacking Iraq, but not Syria — the latter being too clearly illegal for their taste.
The White House has refused to estimate the duration or the cost of this war. There is every reason to assume that conditions on the ground will worsen. So only public pressure, not some sort of victory, will end the war. In fact, military victories are almost unheard of in this era. The RAND corporation studied how terrorist groups come to an end, and found that 83% are ended through politics or policing, only 7% through war. This may be why President Obama keeps saying, quite accurately, "There is no military solution," while pursuing a military solution.
So what should be done and how can we make it happen?
WHAT SHOULD BE DONE
Adopt a new approach toward the world: Apologize for brutalizing the leader of ISIS in a prison camp and to every other prisoner victimized under U.S. occupation. Apologize for destroying the nation of Iraq and to every family there. Apologize for arming the region and its kings and dictators, for past support for the Syrian government, and for the U.S. role in the Syrian war.[5] Cease to support abusive governments in Iraq, Israel, Egypt, Jordan, Bahrain, Saudi Arabia, etc.
Pursue an arms embargo[6]: Announce a commitment not to provide weapons to Iraq or Syria or Israel or Jordan or Egypt or Bahrain or any other nation or ISIS or any other group, and to begin withdrawing U.S. troops from foreign territories and seas, including Afghanistan. (The U.S. Coast Guard in the Persian Gulf has clearly forgotten where the coast of the U.S. is!) Cut off the 79% of weapons that flow to the Middle East from the United States. Urge Russia, China, European nations, and others to cease shipping any weapons to the Middle East. Open negotiations for a nuclear, biological, and chemical weapons free region, to include the elimination of those weapons by Israel.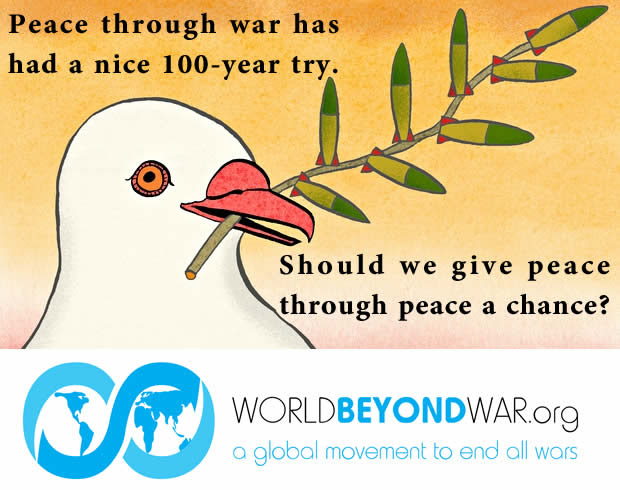 Create a Marshall Plan of restitution to the entire Middle East. Deliver aid (not "military aid" but actual aid, food, medicine) to the entire nations of Iraq and Syria and their neighbors. This can generate sympathy in the population supportive of terrorists. This can be done on a massive scale for less cost than continuing to shoot $2 million missiles at the problem. Announce a commitment to invest heavily in solar, wind, and other green energy and to provide the same to democratic representative governments. Begin providing Iran with free wind and solar technologies — at much lower cost, of course, than what it is costing the U.S. and Israel to threaten Iran over a nonexistent nuclear weapons program. End economic sanctions.
Give real diplomacy a chance: Send diplomats to Baghdad and Damascus to negotiate aid and to encourage serious reforms. Open negotiations that include Iran and Russia. Use the mechanisms provided by the United Nations constructively. The political problems in the region require political solutions. Employ peaceful means to pursue representative governments respectful of human rights, regardless of the consequences for U.S. oil corporations or any other influential profiteers. Propose the creation of truth and reconciliation commissions. Allow for citizen diplomacy efforts.
Apply an appropriate conflict resolution response to terrorism by creating a multi-layered policy framework. (1) Prevention by reducing proneness to terrorism; (2) persuasion by reducing motivation and recruitment; (3) denial by reducing vulnerability and defeating hardliners; (4) coordination by maximizing international efforts.[7]
Dissolve terrorism at its roots. It is proven that civilian-based nonviolent forces can produce decisive change in societies, consequently reducing the demand for terrorism as a form of struggle, even driving a wedge between militants and their sympathizers.[8] We need engagement through strategic contact, consultation and dialog rather than military force. Sustainable peacebuilding processes require the engagement of multiple stakeholders from multiple sectors of societies affected by violent conflict. Strengthening the civil society in the conflict zone will diminish the support base for terrorist groups.[9] Responding with more violence is the victory which extremists seek. Deliberative dialogue inclusive of all views assists in understanding the sources of violence; addressing them through nonviolent strategies and creating conditions for sustainable peace will drive a wedge between militants and their sympathizers.[10]
Address the immediate crisis with a firm but caring humanitarian intervention: Send journalists, aid workers, international nonviolent peaceworkers, human shields, and negotiators into crisis zones, understanding that this means risking lives, but fewer lives than further militarization risks.[11] Empower people with agricultural assistance, education, cameras, and internet access.
Redirect our energies at home: Launch a communications campaign in the United States to replace military recruitment campaigns, focused on building sympathy and desire to serve as critical aid workers, persuading doctors and engineers to volunteer their time to travel to and visit these areas of crisis. At the same time, make economic transition from war to peace industries in the United States a collective public project of top priority.
Support peace journalism: "Peace journalism is when editors and reporters make choices — about what to report, and how to report it — that create opportunities for society at large to consider and to value non-violent responses to conflict."
Stop going rogue: Work through the United Nations on all of the above. Adhere to international law, more specifically the UN Charter and Kellogg-Briand Pact. Sign the United States on to the International Criminal Court and voluntarily propose the prosecution of top U.S. officials of this and the preceding regimes for their crimes.
De-authorize the war on terror (Authorization For Use of Military Force) as a "forever war authorization" — The AUMF can be challenged by taking partial but important steps. Those include reining in the drone warfare program and increasing government accountability. These steps have broad support among human rights and legal rights groups.
HOW WE CAN MAKE IT HAPPEN
We cannot expect to make all of the above happen immediately. But we can move in that direction as quickly as possible. The government will come further toward meeting us the more persuasive and powerful our demand. So, determining Congress members' current position and asking them for just that or a little better is unlikely to produce better results and could produce worse ones — both in the short and long term. A compromise is usually made between two sides of a debate, so it matters where the side of peace is established. And if we demand a limited war, we eliminate the opportunity to inform anyone about the advantages of avoiding war altogether. Thus, people will lack that information when the next war is proposed. We also cannot expect to organize large numbers of people to demonstrate, protest, or lobby for "a war of no more than 12 months." It lacks the poetry and the morality of "No War."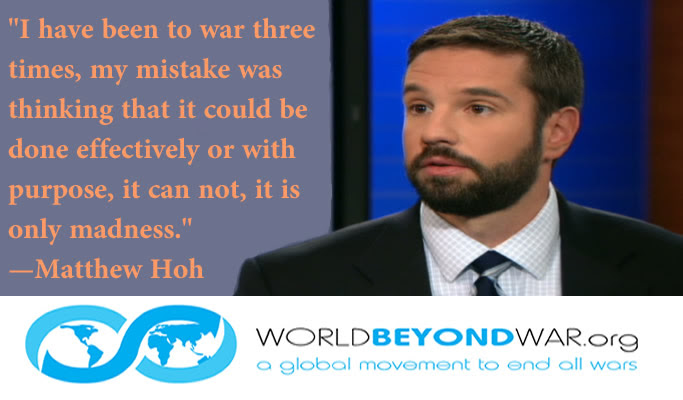 Once a war is well underway and a debate is framed around how many more months it should go on, and the reality on the ground is predictably worsening, and "support the troops" propaganda is insisting that the war go on for the supposed benefit of the troops killing, dying, and committing suicide in it, the problem of how to end it is likely to loom much larger than if the popular position of "No War, Nonviolence Instead" has been well-articulated and defended.
A demand is going to be heard for "no ground troops." This should not be the focus of a peace movement. For one thing there already are some 1,600 U.S. ground troops in Iraq. They're labeled "advisors" as are the 26 Canadians who just joined them. But nobody actually believes 1,626 people are giving advice. Another 2,300 troops will be deployed as a Middle East Marine Corps task force. By demanding "No Ground Troops" while accepting the pretense that they aren't there now, we can actually give our stamp of approval to any ground troop labeled something else. In addition, a war dominated by air strikes is likely to kill more people, not fewer people, than a ground war. This is an opportunity to inform our neighbors who may be unaware that these wars are one-sided slaughters killing mostly people who live where they're fought, and killing mostly civilians. Once we've acknowledged that reality, how can we continue with cries of "No ground troops" rather than "No war"?
We need teach-ins, communications, and education of all sorts. People should know that beheading victim James Foley was opposed to war. People should know that ISIS gives George W. Bush credit in their film for being right about the need for war and pushes for greater warmaking against them by the United States. People should understand that ISIS promotes martyrdom as the highest goal, and that bombing ISIS strengthens it.
We need demonstrations, rallies, sit-ins, town forums, disruptions, and media productions.
Our message to people is: get active and engaged in what we're doing; you'll be surprised how this can be turned around. And if we make this a part of ending the whole institution of war, rather than just a particular war, we may move closer to not having to keep opposing new wars all the time.
Our message to Congress members is: publicly pressure Speaker Boehner and Senator Reid to get back to work and vote to halt this war, or do not expect our votes to keep you in office for another term.
Our message to the President is: now would be a good time to end the mind-set that gets us into wars, as you said you wanted to do. Is this really what you want to be remembered for?
Our message to the United Nations is: the U.S. government is in blatant violation of the U.N. Charter. You must hold the United States accountable.
Our message to all parties is: war has no justification and no benefit, now or ever. It is immoral, makes us less safe, threatens our environment, erodes liberties, impoverishes us, and takes $2 trillion a year away from where it could do a world of good.
World Beyond War has a bureau of speakers who can address these topics. Find them here: http://worldbeyondwar.org/speakers
[1] The atrocities committed by ISIS are rightfully condemned. The threat ISIS poses is considered exaggerated.
[2] According to the Syrian Observatory for Human Rights
[3] According to the Global Terrorism Index by the Institute for Economics and Peace, the number of terrorist incidents has increased virtually every year since 9/11.
[4] The Kellogg–Briand Pact is a 1928 international agreement in which signatory states promised not to use war to resolve "disputes or conflicts of whatever nature or of whatever origin they may be, which may arise among them." For an in-depth exploration see David Swanson's When the World Outlawed War (2011).
[5] Political apologies are considered part of a complex peacebuilding process in conjunction with other conflict transformation techniques. See a summary of Apologia Politica: States and their apologies by proxy.
[6] UN Secretary General Ban Ki Moon, for example, urged the Security Council to impose an arms embargo into Syria.
[7] The framework is explained in detail by conflict transformation scholars Ramsbotham, Woodhouse and Miall in Contemporary Conflict Resolution (2011)
[8] Outlined thoroughly by Hardy Merriman and Jack DuVall, experts from the International Center on Nonviolent Conflict.
[9] See for example: Syrian Civil Defense
[10] As discussed by peace and conflict studies experts John Paul Lederach in Addressing terrorism: a theory of change approach (2011) and David Cortright in Gandhi and Beyond. Nonviolence for a new political age (2009)
[11] The Nonviolent Peaceforce has a proven successful track record of unarmed civilian peacekeeping to prevent, reduce and stop violence
https://soundcloud.com/davidcnswanson/talk-nation-radio-brad-friedman-on-the-state-of-war-earth-and-democracy
Brad Friedman is the investigative blogger, journalist, broadcaster, trouble-maker and muckraker from BradBlog.com. He is a regular contributor to Salon.com and elsewhere; host of KPFK/Pacifica Radio's BradCast and the nationally-syndicated Green News Report with co-host Desi Doyen. We discuss war and peace, the environment and its destruction, and voting and everything done to prevent it. As Michael Moore says: It's a comedy!
Total run time: 29:00
Host: David Swanson.
Producer: David Swanson.
Music by Duke Ellington.
Download from Archive or LetsTryDemocracy.
Pacifica stations can also download from AudioPort.
Syndicated by Pacifica Network.
Please encourage your local radio stations to carry this program every week!
Please embed the SoundCloud audio on your own website!
Past Talk Nation Radio shows are all available free and complete at
http://TalkNationRadio.org
A serious case has been made repeatedly by unknown scholars and globally celebrated geniuses for well over a century that a likely step toward abolishing war would be instituting some form of global government. Yet the peace movement barely mentions the idea, and its advocates as often as not appear rather naive about Western imperialism; certainly they are not central to or well integrated into the peace movement or even, as far as I can tell, into peace studies academia. (Here's a link to one of the main advocacy groups for world government promoting a U.S. war on ISIS.)
All too often the case for world government is even made in this way: Global government would guarantee peace, while its absence guarantees war. The silliness of such assertions, I suspect, damages what may be an absolutely critical cause. Nobody knows what global government guarantees, because it's never been tried. And if national and local governments and every other large human institution are any guide, global government could bring a million different things depending on how it's done. The serious question should be whether there's a way to do it that would make peace more likely, without serious risk of backfiring, and whether pursuing such a course is a more likely path to peace than others.
Does the absence of world government guarantee war? I haven't seen any proof. Of 200 nations, 199 invest far less in war than the United States. Some have eliminated their militaries entirely. Costa Rica is not attacked because it lacks a military. The United States is attacked because of what its military does. Some nations go centuries without war, while others seemingly can't go more than half an election cycle. In their book One World Democracy, Jerry Tetalman and Byron Belitsos write that nations do not go to war because they are armed or inclined toward violence but because "they are hopelessly frustrated by the fact that they have no legislative or judicial forum in which their grievances can be heard and adjudicated."
Can you, dear reader, recall a time when the U.S. public had a grievance with a foreign country, lamented the absence of a global court to adjudicate it, and demanded that Congress declare and the Pentagon wage a war? How many pro-war marches have you been on, you lover of justice? When the Taliban offered to let a third country put Bin Laden on trial, was it the U.S. public that replied, "No way, we want a war," or was it the President? When the U.S. Vice President met with oil company executives to plan the occupation of Iraq, do you think any of them mentioned their frustration at the weakness of international law and arbitration? When the U.S. President in 2013 could not get Congress or the public to accept a new war on Syria and finally agreed to negotiate the removal of chemical weapons without war, why was war the first choice rather than the second? When advocates of world government claim that democracies don't wage war, or heavily armed nations are not more likely to wage war, or nations with cultures that celebrate war are not more likely to wage war, I think they hurt their cause.
When you start up a campaign to abolish the institution of war, you hear from all kinds of people who have the solution for you. And almost all of them have great ideas, but almost all of them think every other idea but their own is useless. So the solution is world government and nothing else, or a culture of peace and nothing else, or disarmament and nothing else, or ending racism and nothing else, or destroying capitalism and nothing else, or counter-recruitment and nothing else, or media reform and nothing else, or election campaign funding reform and nothing else, or creating peace in our hearts and radiating it outward and nothing else, etc. So those of us who find value in all of the above, have to encourage people to pick their favorite and get busy on it. But we also have to try to prioritize. So, again, the serious question is whether world government should be pursued and whether it should be a top priority or something that waits at the bottom of the list.
There are, of course, serious arguments that world government would make everything worse, that large government is inevitably dysfunctional and an absolutely large government would be dysfunctional absolutely. Serious, if vague, arguments have been made in favor of making our goal "anarcracy" rather than world democracy. These arguments are overwhelmed in volume by paranoid pronouncements like the ones in this typical email I received:
"War is a crime, yes agreed totally, but Man-made Global Warming is a complete scam. I know this to be a fact. Aurelio Peccei, co-founder of the Club of Rome, offered me a job as one of his PAs (my uncle, Sir Harry, later Lord Pilkington went to the first ever Bilderberg Conference in 1954, a year before he came a Director of the Bank of England and was a loyal member of the global corporate elite) and he told me that this was all a scheme to help frighten the world into accepting global governance on their terms. Be very careful, you are unwittingly playing their game.
Best wishes
Justin"
One of the huge advantages of global government would seem to be that it might globally address global warming. Yet the horror of global government is so great that people believe the droughts and tornados destroying the earth all around them are somehow a secret plot to trick us into setting up a world government.
A half-century ago the idea of world government was acceptable and popular. Now, when we hear about those days it's often in sinister tones focused on the worst motivations of the worst players at the time. Less common are accounts reminding us of a hopeful, well-meant, but unfinished project.
I think advocates for a world federation and global rule of law are onto an important idea that ought to be pursued immediately. Global warming leaves us little time for taking on other projects, but this is a project critical to addressing that crisis. And it's a project that I think can coexist with moving more power to provinces, localities, and individuals.
The bigger the Leviathan, claims Ian Morris, the less war there will be, as long as the Leviathan is the United States and it never stops waging wars. Advocates of world government tend to agree with the first part of that, and I think they're partially right. The rule of law helps to regulate behavior. But so do other factors. I think Scotland could leave the UK or Catalonia leave Spain, Quebec leave Canada, Vermont leave the United States without the chance of war increasing. On the contrary, I think some of these new countries would be advocates for peace. Were Texas to secede, that might be a different story. That is to say, habits of peace and cultures of peace necessary to allow a world federation might render such a federation less necessary -- still perhaps necessary, but less so. If the U.S. public demanded peace and cooperation and participation in the International Criminal Court, it would be ready to demand participation in a world federation, but peace might already have -- at least in great measure -- arrived.
Extreme national exceptionalism, which is not required by nationalism, is clearly a driver of war, hostility, and exploitation. President Obama recently said that he only wakes up in the morning because the United States is the one indispensible nation (don't ask what that makes the others). The theme of his speech was the need to start another war. Republican presidential candidate Ron Paul was once booed at a primary debate, not for opposing war, but for suggesting that the golden rule be applied to relations with foreign countries. Clearly we need to become world citizens in our minds as well as in written law.
Rudolf Gelsey recently sent me his book, Mending Our Broken World: A Path to Perpetual Peace, which led me on to Tetalman and Belitsos's book. I think these authors would benefit from the wisdom of the 1920s Outlawry movement, but I think they do an excellent job of recognizing the successes and failures of the United Nations, and proposing reforms or replacement. Should we be scared of an international rule of law? Tetalman and Belitsos reply:
"In truth, living under a system of war and anarchy with WMDs readily available for use on the field of battle -- that is the really frightening choice when it is compared with tyranny."
This is the key, I think. Continuing with the war system and with environmental destruction threaten the world. Far better to try a world with a government than to lose the world. Far better a system that tries to punish individual war makers than one that bombs entire nations.
How do we get there? Tetalman and Belitsos recommend abolishing the veto at the United Nations, expanding Security Council membership, creating a tax base for a U.N. that currently receives about 0.5 percent what the world invests in war, and giving up war powers in favor of U.N. policing. They also propose kicking out of the United Nations any nations not holding free elections, or violating international laws. Clearly that would have to be a requirement going forward and not enforced retroactively or you'd lose too many big members and spoil the whole plan.
The authors envision some transition period in which the U.N. uses war to prevent war, before arriving at the golden age of using only police. I'm inclined to believe that imagined step would have to be leapt over for this to work. The U.S./NATO/U.N. have been using war to rid the world of war for three-quarters of a century with a dismal record of failure. I suspect the authors are also wrong to propose expansion of the European Union as one way to get to a global federation. The European Union is the second greatest purveyor of violence on earth right now. Perhaps the BRICS or other non-aligned nations could begin this process better, which after all is going to require the United States either rising or sinking to humility unimaginable today.
Perhaps a federation can be established only on the question of war, or only on the question of nuclear disarmament, or climate preservation. The trouble, of course, is that the willingness of the dominant bullies to engage in one is as unlikely as, and intimately connected to, each of the others. What would make all of this more likely would be if we began talking about it, thinking about it, planning for it, dreaming it, or even just hearing the words when we sing John Lennon songs. The U.S. peace movement is currently drenched in nationalism, uses "we" to mean the U.S. military, and thinks of "global citizen" as a bit of silly childishness. That needs to change. And fast.
What I've seen of public events, demonstrations, and protests of the latest U.S. war -- just like the larger and more immediately effective public resistance 12 months ago -- has been aimed, remarkably enough, at ending the war and opposing the policies of those engaging in it, and first among them the U.S. President.
What I've seen of inside-the-Beltway-style peace lobby groups' strategy has been aimed, predictably enough, at setting a good end date for the new war and barring the use of U.S. ground troops.
Both approaches are represented by voluminous discussions on listserves, so I feel like I know a good sample of each far more intimately than I might ideally wish. They parallel rejection and support of lesser-evil voting, and are largely made by those who reject and accept the importance of lesser-evil voting. However, many who accept lesser-evilism in the polling booth do not accept it here. And I think they have a point.
If you vote for a decent candidate and he or she loses, an argument can be made that you've "wasted" your vote. But if you advocate for an immediate end to a war, and a Congress that is hearing from the President that the war should last three years, bans continuation of the war beyond a year-and-a-half, then an argument can be made that you helped frame the compromise. In any case, it would be difficult to make a persuasive case that your activism was wasted. If, on the other hand, you found out that some Congress members were interested in a 1-year limit, and you lobbied for just that, and then Congress enacted a 2-year limit, what could you be said to have accomplished?
Here's my basic contention: Congress knows how to compromise. We don't have to pre-compromise for them. (How'd that work out on healthcare?) (How'd that ever work out?) And when we do pre-compromise for them (such as the time AFSCME banned "single-payer" signs from "public option" rallies, so as to simulate public demand for what "progressive" Congress members were pretending to already want) we give significant support and respectability to some serious outrages (such as privatized for-profit health insurance, but also such as bombing Iraq yet again and bombing the opposite side in Syria that was to be bombed a year ago and while arming that same side, which -- if we're honest about it -- is madness.
How many years of madness will be best, is an insane question. It's not a question around which to organize protests, demonstrations, nonviolent actions, lobbying, education, communication, or any other sort of movement building.
But isn't 2 years of war better than 3? And how are you going to get Congress members to limit it to 2 years if you've called them lunatics?
Of course 2 years is better than 3. But less than 2 is even better, and Congress is going to compromise as far as it dares, and knows perfectly well how to do so without help from us. Is there really evidence to imagine that Senators and Congress members shape their policies around who's most polite to them? Certainly they determine who's invited to meetings on Capitol Hill on that basis, but is being in those meetings our top priority? Does it do the most for us? And can't we still get some people into those meetings by calling mass murder "mass murder" while keeping open every opportunity for the funders and sanctioners of mass murder to oppose and stop it?
We need sit-ins in Congressional offices and protests on Capitol Hill. To a much lesser extent, we need discussions with Congress members and staffers. To the extent that different people must pursue those two tactics, the question will always remain whether mass public organizing should be guided by people who think like the former group or like the latter.
My position comes from the expectation that "support the troops" propaganda and the inevitably worsened situation after a year or two will make the struggle to then end a previously time-limited war harder, rather than easier -- easier only if the public has come to its sense in the meantime. My position comes from the fact that there are already U.S. troops in Iraq and the belief that we're going to get them home sooner if we don't play along with the pretense that they aren't there or aren't there for combat. My concern is for human life, and when you prioritize an air war over a ground war -- and when the "anti-war" movement does that -- you risk creating a great, rather than a smaller, number of deaths, albeit non-U.S. deaths.
Now, the lobbyists' need to be polite to Congress can be a helpful guide to all protesters. While moral condemnation and humorous mockery can be useful tools, so can Gandhian respect for those who must be won over. But the demand of a peace movement must be for peace and alternatives to war. When the missile strikes were stopped a year ago, the arming of ISIS-and-friends proceeded anyway, and no useful policy was pursued instead of the missiles. The U.S. had decided to do nothing, as if that were the only other option. Effectively we'd put an end date on the U.S. staying out, as doing nothing was guaranteed not to resolve the problem.
A good end-date for this war is today. A good date to begin useful aid and diplomacy and arms embargoes and reparations is tomorrow. We have to change the conversation to those topics, instead of focusing on the question of how much mass-murdering madness is the appropriate amount. Not because we want it to continue for eternity if it can't be ended now, but because it will end sooner and be less likely to be repeated if we confront it for what it is.
We've been so strategic over the past decade that everybody in the United States knows the war on Iraq cost U.S. lives and money, but most have only the vaguest idea of how it destroyed Iraq and how many people it killed. As a direct result, nobody knows where ISIS came from, and not enough people are fully aware of the high probability that the bombing will strengthen ISIS -- which may be why ISIS openly asks for it in its 1-hour film.
How much insanity should we demand on our posters and signs and online petitions and letters to editors: not another drop.
We won't necessarily know what a Musteite is, but I'm inclined to think it would help if we did. I'm using the word to mean "having a certain affinity for the politics of A.J. Muste."
I had people tell me I was a Musteite when I had at best the vaguest notion of who A.J. Muste had been. I could tell it was a compliment, and from the context I took it to mean that I was someone who wanted to end war. I guess I sort of brushed that off as not much of a compliment. Why should it be considered either particularly praiseworthy or outlandishly radical to want to end war? When someone wants to utterly and completely end rape or child abuse or slavery or some other evil, we don't call them extremist radicals or praise them as saints. Why is war different?
The possibility that war might not be different, that it might be wholly abolished, could very well be a thought that I picked up third-hand from A.J. Muste, as so many of us have picked up so much from him, whether we know it or not. His influence is all over our notions of labor and organizing and civil rights and peace activism. His new biography, American Gandhi: A.J. Muste and the History of Radicalism in the Twentieth Century by Leilah Danielson is well worth reading, and has given me a new affection for Muste despite the book's own rather affection-free approach.
Martin Luther King Jr. told an earlier Muste biographer, Nat Hentoff, "The current emphasis on nonviolent direct action in the race relations field is due more to A.J. than to anyone else in the country." It is also widely acknowledged that without Muste there would not have been formed such a broad coalition against the war on Vietnam. Activists in India have called him "the American Gandhi."
The American Gandhi was born in 1885 and immigrated with his family at age 6 from Holland to Michigan. He studied in Holland, Michigan, the same town that we read about in the first few pages of Blackwater: The Rise of the World's Most Powerful Mercenary Army, and at a college later heavily funded by the Prince Family, from which Blackwater sprang. The stories of both Muste and Prince begin with Dutch Calvinism and end up as wildly apart as imaginable. At the risk of offending Christian admirers of either man, I think neither story -- and neither life -- would have suffered had the religion been left out.
Muste would have disagreed with me, of course, as some form of religion was central to his thinking during much of his life. By the time of World War I he was a preacher and a member of the Fellowship of Reconciliation (FOR). He opposed war in 1916 when opposing war was acceptable. And when most of the rest of the country fell in line behind Woodrow Wilson and obediently loved war in 1917, Muste didn't change. He opposed war and conscription. He supported the struggle for civil liberties, always under attack during wars. The American Civil Liberties Union (ACLU) was formed by Muste's FOR colleagues in 1917 to treat symptoms of war, just as it does today. Muste refused to preach in support of war and was obliged to resigned from his church, stating in his resignation letter that the church should be focused on creating "the spiritual conditions that should stop the war and render all wars unthinkable." Muste became a volunteer with the ACLU advocating for conscientious objectors and others persecuted for war opposition in New England. He also became a Quaker.
In 1919 Muste found himself the leader of a strike of 30,000 textile workers in Lawrence, Massachusetts, learning on the job -- and on the picket line, where he was arrested and assaulted by police, but returned immediately to the line. By the time the struggle was won, Muste was general secretary of the newly formed Amalgamated Textile Workers of America. Two years later, he was directing Brookwood Labor College outside of Katonah, New York. By the mid-1920s, as Brookwood succeeded, Muste had become a leader of the progressive labor movement nationwide. At the same time, he served on the executive committee of the national FOR from 1926-1929 as well as on the national committee of the ACLU. Brookwood struggled to bridge many divides until the American Federation of Labor destroyed it with attacks from the right, aided a bit with attacks from the left by the Communists. Muste labored on for labor, forming the Conference for Progressive Labor Action, and organizing in the South, but "if we are to have morale in the labor movement," he said, "we must have a degree of unity, and, if we are to have that, it follows, for one thing, that we cannot spend all our time in controversy and fighting with each other -- maybe 99 per cent of the time, but not quite 100 per cent."
Muste's biographer follows that same 99 percent formula for a number of chapters, covering the infighting of the activists, the organizing of the unemployed, the forming of the American Workers Party in 1933, and in 1934 the Auto-Lite strike in Toledo, Ohio, that led to the formation of the United Auto Workers. The unemployed, joining in the strike on behalf of the workers, were critical to success, and their commitment to do so may have helped the workers decide to strike in the first place. Muste was central to all of this and to progressive opposition to fascism during these years. The sit-down strike at Goodyear in Akron was led by former students of Muste.
Muste sought to prioritize the struggle for racial justice and to apply Gandhian techniques, insisting on changes in culture, not just government. "If we are to have a new world," he said, "we must have new men; if you want a revolution, you must be revolutionized." In 1940, Muste became national secretary of FOR and launched a Gandhian campaign against segregation, bringing on new staff including James Farmer and Bayard Rustin, and helping to found the Congress of Racial Equality (CORE). The nonviolent actions that many associate with the 1950s and 1960s began in the 1940s. A Journey of Reconciliation predated the Freedom Rides by 14 years.
Muste predicted the rise of the Military Industrial Complex and the militarized adventurism of the post-World War II United States in 1941. Somewhere beyond the comprehension of most Americans, and even his biographer, Muste found the wisdom to continue opposing war during a second world war, advocating instead for nonviolent defense and a peaceful, cooperative, and generous foreign policy, defending the rights of Japanese Americans, and once again opposing a widespread assault on civil liberties. "If I can't love Hitler, I can't love at all," said Muste, articulating the widespread commonsense that one should love one's enemies, but doing so in the primary case in which virtually everyone else, to this day, advocates for the goodness of all-out vicious violence and hatred.
Of course, those who had opposed World War I and the horrible settlement that concluded it, and the fueling of fascism for years -- and who could see what the end of World War II would bring, and who saw the potential in Gandhian techniques -- must have had a harder time than most in accepting that war was inevitable and World War II justified.
Muste, I am sure, took no satisfaction in watching the U.S. government create a cold war and a global empire in line with his own prediction. Muste continued to push back against the entire institution of war, remarking that, "the very means nations use to provide themselves with apparent or temporary 'defense' and 'security' constitute the greatest obstacle to the attainment of genuine or permanent collective security. They want international machinery so that the atomic armaments race may cease; but the atomic armaments race has to stop or the goal of the world order recedes beyond human reach."
It was in this period, 1948-1951 that MLK Jr. was attending Crozer Theological Seminary, attending speeches by, and reading books by, Muste, who would later advise him in his own work, and who would play a key role in urging civil rights leaders to oppose the war on Vietnam. Muste worked with the American Friends Service Committee, and many other organizations, including the Committee to Stop the H-Bomb Tests, which would become the National Committee for a Sane Nuclear Policy (SANE); and the World Peace Brigade.
Muste warned against a U.S. war on Vietnam in 1954. He led opposition to it in 1964. He struggled with great success to broaden the anti-war coalition in 1965. At the same time, he struggled against the strategy of watering down war opposition in an attempt to find broader appeal. He believed that "polarization" brought "contradictions and differences" to the surface and allowed for the possibility of greater success. Muste chaired the November 8 Mobilization Committee (MOBE) in 1966, planning a massive action in April 1967. But upon returning from a trip to Vietnam in February, giving talks about the trip, and staying up all night drafting the announcement of the April demonstration, he began to complain of back pain and did not live much longer.
He did not see King's speech at Riverside Church on April 4. He did not see the mass mobilization or the numerous funerals and memorials to himself. He did not see the war ended. He did not see the war machine and war planning continue as if little had been learned. He did not see the retreat from economic fairness and progressive activism during the decades to come. But A.J. Muste had been there before. He'd seen the upsurges of the 1920s and 1930s and lived to help bring about the peace movement of the 1960s. When, in 2013, public pressure helped stop a missile attack on Syria, but nothing positive took its place, and a missile attack was launched a year later against the opposite side in the Syrian war, Muste would not have been shocked. His cause was not the prevention of a particular war but the elimination of the institution of war, the cause also of the new campaign in 2014 World Beyond War.
What can we learn from someone like Muste who persevered long enough to see some, but not all, of his radical ideas go mainstream? He didn't bother with elections or even voting. He prioritized nonviolent direct action. He sought to form the broadest possible coalition, including with people who disagreed with him and with each other on fundamental questions but who agreed on the important matter at hand. Yet he sought to keep those coalitions uncompromising on matters of the greatest importance. He sought to advance their goals as a moral cause and to win over opponents by intellect and emotion, not force. He worked to change world views. He worked to build global movements, not just local or national. And, of course, he sought to end war, not just to replace one war with a different one. That meant struggling against a particular war, but doing so in the manner best aimed at reducing or abolishing the machinery behind it.
I'm not, after all, a very good Musteite. I agree with much, but not all. I reject his religious motivations. And of course I'm not much like A.J. Muste, lacking his skills, interests, abilities, and accomplishments. But I do feel close to him and appreciate more than ever being called a Musteite. And I appreciate that A.J. Muste and millions of people who appreciated his work in one way or another passed it on to me. Muste's influence on people everyone knows, like Martin Luther King, Jr., and people who influenced people everyone knows, like Bayard Rustin, was significant. He worked with people still active in the peace movement like David McReynolds and Tom Hayden. He worked with James Rorty, father of one of my college professors, Richard Rorty. He spent time at Union Theological Seminary, where my parents studied. He lived on the same block, if not building, where I lived for a while at 103rd Street and West End Avenue in New York, and Muste was apparently married to a wonderful woman named Anne who went by Anna, as am I. So, I like the guy. But what gives me hope is the extent to which Musteism exists in our culture as a whole, and the possibility that someday we will all be Musteites.
Congress has fled town to avoid voting for or against a new war. Many of the big donors to Congressional campaigns would want Yes votes. Many voters would want No votes, if not immediately, then as soon as the panic induced by the beheading videos wears off, which could be within the next month. Better to just avoid displeasing anyone -- other than people who notice you running away.
The standard for legal-ish cosmopolitan respectability in the U.S. now has become getting five kings and dictators to say their they're on your side as you start bombing a new country.
But the British Parliament is still at the level of believing an actual vote by a legislature is appropriate. Do Americans remember that their beloved founding fathers put war powers in the hands of the legislature because of the ugly history of royal wars in Britain? Times have changed.
But if we want to actually comply with the law, we have to admit that neither Parliament nor Congress has the power to legalize attacking Syria. This is because both the U.S. and the U.K. are parties to the United Nations Charter, which bans war with very narrow exceptions -- exceptions that have not been in any way met.
And if you want to get really serious about laws, the Kellogg-Briand Pact has never been repealed, the U.S. and U.K. are parties to it, and it bans all war without exception.
Now, you can interpret the Kellogg-Briand Pact to allow self-defense because the right to military self-defense, even when it's unlikely to actually work, is just so obvious to your way of thinking. And the U.N. Charter explicitly allows military self-defense. But here's the problem: There's nothing defensive about attacking Syria, and President Obama himself described it as "offense" in an interview with Chuck Todd on NBC.
Another word for "offense" is aggression, which the Nuremberg tribunal called "essentially an evil thing . . . the supreme international crime, differing only from other war crimes in that it contains within itself the accumulated evil of the whole."
Asked about Congress's responsibilities on Tuesday, Senator Tim Kaine (D., Va.) claimed that presidents could fight defensive wars without Congress but needed Congressional authorizations for offensive ones. In fact, offensive wars are not legal by any common understanding. Asked, then, about international law, at an event at the Center for American Progress, Kaine reportedly said that bombing Syria, as distinct from Iraq, was "complicated" and that he was not sure "how they would do that, perhaps using principles of self-defense or defending Iraq against other threats. I think we'll find out more about what the administration says about that after the UN General Assembly," he said.
Only in America. Only the White House gets to invent legal rationale for blatant crimes, with the law makers and enforcers prepared to accept the rationale before they hear it.
Prior to the U.N. meeting, U.S. Ambassador Samantha Power wrote to the U.N. arguing that it is legal for the United States to attack Syria because it is legal for Iraq to defend itself. By this logic, if Canada experienced a violent rebellion, it would be legal for China to attack the United States.
It's fun to pretend that the rule of law doesn't matter to you because you have all the weapons. It's fun to take two-month vacations from Washington. Just don't count on everyone voting you back next year.
Signers listed at bottom
Over the last several decades, the Pentagon,conservative forces, and corporations have been systematically working to expand their presence in the K-12 learning environment and in public universities. The combined impact of the military, conservative think tanks and foundations, and of corporatization of our public educational systems has eroded the basic democratic concept of civilian public education. It is a trend that, if allowed to continue, will weaken the primacy of civilian rule and, ultimately, our country's commitment to democratic ideals.
The signers of this statement believe it is urgent for all advocates of social justice, peace and the environment to recognize the dangerous nature of this problem and confront it with deliberate action.
THE THREAT TO CIVILIAN EDUCATION
The most aggressive outside effort to use the school system to teach an ideology with ominous long-term implications for society comes from the military establishment. Over the last two decades, with relatively little media coverage or public outcry, the Pentagon's involvement in schools and students' lives has grown exponentially. Now, for example:
Every school day, at least half a million high school students attend Junior ROTC classes to receive instruction from retired officers who are handpicked by the Pentagon to teach its own version of history and civics. These students are assigned "ranks" and conditioned to believe that military and civilian values are similar, with the implication that unquestioning obedience to authority is therefore a feature of good citizenship.
Armed forces academies are being established in some public schools (Chicago now has eight), where all students are given a heavy dose of military culture and values.
A network of military-related programs is spreading in hundreds of elementary and middle schools.

Examples are the Young Marines and Starbase programs, and military programs that sneak into schools under the cloak of Science / Technology / Engineering / Math (STEM) education.
Military recruiters are trained to pursue "school ownership" as their goal (see:

"

Army School Recruiting Program Handbook

"

). Their frequent presence in classrooms, lunch areas and at assemblies has the effect of popularizing military values, soldiering and, ultimately, war.
Since 2001, federal law has overridden civilian school autonomy and family privacy when it comes to releasing student contact information to the military. Additionally, each year thousands of schools allow the military to administer its entrance exam — the ASVAB — to 10th-12th graders, allowing recruiters to bypass laws protecting parental rights and the privacy of minors and gain access to personal information on hundreds of thousands of students.
THE THREAT TO PUBLIC EDUCATION
Efforts by groups outside the school system to inject conservatism and corporate values into the learning process have been going on for a number of years. In a recent example of right-wing educational intervention, The New York Times reported that tea party groups, using lesson plans and coloring books, have been pushing schools to "teach a conservative interpretation of the Constitution, where the federal government is a creeping and unwelcome presence in the lives of freedom-loving Americans." (See:http://www.nytimes.com/2011/09/17/us/constitution-has-its-day-amid-a-struggle-for-its-spirit.html )
Corporations have been projecting their influence in schools with devices like Channel One, a closed-circuit TV program that broadcasts commercial content daily to captive student audiences in 8,000 schools. Some companies have succeeded in convincing schools to sign exclusive contracts for pizza, soft drinks and other products, with the goal of teaching early brand loyalty to children. A National Education Policy Center report issued in November 2011 documents the various ways in which business/school partnerships are harming children educationally by channeling student thinking "into a corporate-friendly track" and stunting their ability to think critically. (See: http://nepc.colorado.edu/publication/schoolhouse-commercialism-2011 )
The development of this corporate-friendly track dovetails with a radical corporate agenda to dismantle America's public education system. States across the country are slashing educational spending, outsourcing public teacher jobs, curbing collective-bargaining rights, and marginalizing teachers' unions. There is a proliferation of charter and "cyber" schools that promote private sector involvement and a push toward for-profit schools where the compensation paid to private management companies is tied directly to student performance on standardized assessments. The cumulative effect is the creation of institutions that cultivate a simplistic ideology that merges consumerism with subservience. (See: http://www.motherjones.com/politics/2011/12/michigan-privatize-public-education )
The corporatization of education via charter schools and the administration sector growth at universities is another troubling trend for public education. Diane Ravitch's book Reign of Error ( http://www.npr.org/2013/09/27/225748846/diane-ravitch-rebukes-education-activists-reign-of-error ) and Henry A. Giroux's newest book, Neoliberalism's War on Higher Education, ( http://www.truth-out.org/opinion/item/22548-henry-giroux-beyond-neoliberal-miseducation ) give pointers to the doubtful role of corporate values in public education.
Why is this happening? Giroux notes that "Chris Hedges, the former New York Times correspondent, appeared on Democracy Now! in 2012 and told host Amy Goodman the federal government spends some $600 billion a year on education—"and the corporations want it."
There are also some organizations supporting efforts to introduce history and civics lessons from a progressive perspective, such as the Howard Zinn Education Project (https://zinnedproject.org ) and Rethinking Schools ( http://www.rethinkingschools.org ). And a small movement is working against Channel One and the commercialization of the school environment (e.g., http://www.commercialalert.org/issues/education and ( http://www.obligation.org ).
STOPPING THESE THREATS
There is reason to be hopeful about reversing this trend if we look, for example, at some of the successes in grassroots efforts to curb militarism in schools. In 2009, a coalition of high school students, parents and teachers in the very conservative, military-dominated city of San Diego succeeded in getting their elected school board to shut down JROTC firing ranges at eleven high schools. Two years later, the same coalition got the school board to pass a policy significantly limiting military recruiting in all of its schools. Though such initiatives are relatively few in number, similar victories have been won in other school districts and on the state level in Hawaii and Maryland.
There are also some organizations supporting efforts to introduce history and civics lessons from a progressive perspective, such as the Zinn Education Project (www.zinnedproject.org) and Rethinking Schools (www.rethinkingschools.org). And a small movement is working against Channel One and the commercialization of the school environment (e.g., http://www.commercialalert.org/issues/education/ and http://www.obligation.org/ ).
As promising and effective as these efforts are, they pale in comparison to the massive scale of what groups on the other side of the political spectrum are proactively doing in the educational environment to preserve the influence of conservatism, militarism and corporate power.
It is time for progressive organizations, foundations and media to confront this and become equally involved in the educational system. It is especially important that more organizations unite to oppose the growing intrusion of the Pentagon in K-12 schools and universities. Restoring the primacy of critical thinking and democratic values in our culture cannot be done without stopping the militarization and corporate takeover of public education.
Michael Albert
Z Magazine
Pat Alviso
Southern California
Military Families Speak Out (MFSO)
Marc Becker
Co-chair,
Historians Against the War
Bill Bigelow
Curriculum Editor,
Rethinking Schools
Peter Bohmer
Faculty in political economy,
Evergreen State College
Bill Branson
VVAW National Office
Noam Chomsky
Professor, Retired, MIT
Michelle Cohen
Project Great Futures,
Los Angeles, CA
Tom Cordaro
Pax Christi USA Ambassador
of Peace, Naperville, IL
Pat Elder
National Coalition to
Protect Student Privacy
Margaret Flowers
Co-director,
It's Our Economy
Libby Frank
Northwest Suburban Peace
& Education Project,
Arlington Hts., IL
Hannah Frisch
Civilian Soldier
Alliance
Kathy Gilberd
National Lawyers Guild
Military Law Task Force
Henry Armand Giroux
Professor, McMaster
University
Frank Goetz
Director, West Surburban
Faith Based Peace Coalition,
Wheaton, Il
Tom Hayden
Activist, Author,
Teacher
Arlene Inouye
Treasurer, United Teachers
of Los Angeles
Iraq Veterans Against
the War (IVAW)
National Office,
New York City
Rick Jahnkow
Project on Youth and
Non-Military Opportunities,
Encinitas, CA
Jerry Lembcke
Emeritus Professor,
Holy Cross College
Jorge Mariscal
Professor, Univ. of
California San Diego
Patrick McCann
National VFP President,
Montgomery County (MD)
Education Association
Board Member
Stephen McNeil
American Friends
Service Committee
San Francisco
Carlos Muñoz
Professor Emeritus
UC Berkeley Ethnic
Studies Dept.
Michael Nagler
President, Metta Center
for Nonviolence
Jim O'Brien
Co-chair, Historians
Against the War
Isidro Ortiz
Professor, San Diego
State University
Jesus Palafox
American Friends Service
Committee, Chicago
Pablo Paredes
AFSC 67 Sueños
Michael Parenti, Ph.D.
Author & lecturer
Bill Scheurer
Executive Director
of On Earth Peace,
Stop Recruiting Kids
Campaign
Cindy Sheehan
Peace and Social
Justice Activist
Joanne Sheehan
New England Regional
War Resisters League
Mary Shesgreen
Chair, Fox Valley Citizens
for Peace & Justice,
Elgin, IL
Sam Smith
Fellowship of
Reconciliation,
Chicago
Kristin Stoneking
Executive Director
Fellowship of
Reconciliation USA
David Swanson
World Beyond War
Chris Venn
San Pedro Neighbors for
Peace & Justice,
San Pedro, CA
Veterans for Peace
National Office,
St. Louis, MO
Veterans for Peace
Chicago Chapter
Vietnam Veterans
Against the War
National Office,
Champaign, IL
Amy Wagner
YA-YA Network
(Youth Activists-Youth
Allies), New York City
Harvey Wasserman
Activist
West Suburban
Faith-based
PEACE Coalition
Wheaton, IL
Colonel Ann Wright,
Retired U.S. Army/
Army Reserves
Mickey Z.
Author of Occupy
this Book: Mickey Z.
on Activism
Kevin Zeese
Co-director,
It's Our Economy