Blogs
---
Here's a fairly typical image of a sort that constantly clogs up my FaceBook page. I take it to be the full and open expression of someone or some group's honest outlook. I don't think they'd identify themselves at the bottom as "Jesus, Republicans & Other Bullshit" if they were self-censoring.
And I certainly appreciate the cursing and the criticism of religion.
Here are my concerns:
"We've been at war now for over 12 years."
No, we haven't. The U.S. government and the U.S. military have, and it's been for over two centuries now. This latest installment has been actively opposed by many of us and opposed in many ways in opinion polls by a majority of the U.S. population for years. It's OK to take responsibility and blame for insufficient resistance, but not to identify with the criminals. If "we" are at war, we want "us" to win or to "redeploy responsibly," but certainly not to face prosecution or to make restitution -- as basic morality requires.
"Experts put the total cost at $4 - $6 trillion dollars." That's a sum of direct and indirect costs of war spending. The direct spending on the wars that is included in it is much smaller. It's certainly right to include the indirect damage. But we should start from the right place. The Pentagon and the media, and everyone who sees or reads the media, separate war costs from routine basic military spending. The latter is spending preparing for wars and provoking wars. It is justified by the existence of the wars. The wars are fought using the weapons and bases not counted as "war spending." That basic war preparations cost is now over $1 trillion each year. That's over $10 trillion each decade. Then add some extra hundreds of billions in "war costs." And then calculate the indirect damages and lost opportunities, which are enormous. The $4 - $6 trillion figure is ridiculously low, subservient to propaganda, and builds in the notion that possessing the sort of massive military that guarantees eternal wars is perfectly acceptable.
"Imagine if we had invested that in our own country and people." The war on Iraq was not an investment in the people of Iraq. It killed a million, injured millions, made millions into refugees, and absolutely destroyed a society, leaving behind the disaster now being addressed with another war. Yes, of course, we should have invested many trillions of dollars in people's needs rather than in mass murder. But anyone who's really tried to figure out how to spend many trillions of dollars would know that it's almost impossible to do. One will be obliged to let the other 95% of humanity have some of it for sheer lack of ways to spend it in the United States. And anyone who's given any thought to global suffering would be sickened by the idea of 5% of humanity hoarding such unfathomable wealth, just as many of us are sickened by the military using it to kill -- and to kill many more by taking that money away from where it's needed than the military ever kills using weapons.
Moving away from militarism requires identifing with humanity, not a nation. "We" must begin to mean humanity. Our graphics should not push nationalism, falsify numbers to make militarism seem normal, pretend war is something new to the United States -- which was born out of war and for the sake of war. Moving away from militarism requires dumping the Democratic Party along with the Republican, and along with both great mountains of bullshit. In certain of his comments, Jesus was actually closer to where we need to go than FaceBook posters are.
I would not have guessed that people cared so much and so well about U.S. prisoners. The Governor of Pennsylvania is expected to sign into law a dangerous precedent that we all need to speak out against and put a quick stop to. In the first day since posting the following petition, over 10,000 people have signed it and added quite eloquent reasons why. It can be signed here.
We stand against the passage, in Pennsylvania, of the so-called "Revictimization Relief Act," which affords virtually unlimited discretion to District Attorneys and the state Attorney General to silence prisoner speech, by claiming that such speech causes victims' families "mental anguish." Politicians are claiming a power that if granted to them will be difficult if not impossible for citizens to check.

In seeking to silence the legally protected speech of prisoners, the state also damages citizens' right and freedom to know -- in this case, to better understand an area of U.S. life physically removed from public scrutiny.

This legislation emerged following the failure of the Fraternal Order of Police and its allies to stop prisoner and radio journalist Mumia Abu-Jamal from delivering an October 5, 2014, commencement address. This bill sacrifices the rights of all prisoners in Pennsylvania in order to silence Abu-Jamal -- an unethical deployment of collective punishment by those in power.

Victim relief is not served by denying fundamental rights to those convicted, especially because prisoner freedom of speech is crucial for redressing wrongful convictions and the current crisis of harsh sentencing that is often disproportionate to alleged crimes. Our society is currently engaged in a full-scale debate on the problems of mass incarceration that could not have developed without prisoners' voices.
Here's a PDF of the names and comments of the first 10,000 plus people to sign this. Flipping through the first few pages, these comments jump out at me:
Lawrence Fine NY This is an ill-conceived bill.
Christopher Scerbo ME Democracy is never served by silence.
Robert Post NJ The only proper answer to bad speech is good speech!
Ellen Kirshbaum NY Why does speech frighten these corrupt politicians? Let all prisoners SPEAK!
Jenefer Ellingston DC Why is our local or national gov't afraid of Free Speech?
Allan Carlson NJ This is a FASCIST law. It represents that antithesis of the intent of the Founding Fathers who penned the U.S. Constitution.
Jesse Reyes NJ This bill only makes sense if it is known, beyond all shadow of doubt, that the incarcerated person is actually "guilty." The Innocence Project and several other high profile cases ("The Central Park Jogger" case) has proven that far too many incarcerated people are not guilty of the crimes they were sent to prison for. I would not want to deny anyone their rights on that basis alone. This bill is wrong and should not be signed by anyone who actually cares about our Constitution and our Bill of Rights.
Jan Clausen NY This bill threatens to make Pennsylvania a poster child for the unconstitutional curtailment of the free speech rights that are known around the world as one of the great strengths of U.S. system. Pennsylvanians and all U.S. citizens need to wake up and soundly reject this ill-conceived measure that threatens the freedoms of all.
Dallas C. GalvinNY Censorship for the state that promotes itself as the site of the U.S. Constitution and home of Benjamin Franklin and William Penn? Deeply troubling behavior. Rethink, then reject. Mr. Jamal (let's be clear about motivation here) has been able to show the corruption and disingenuousness of the D.A., the state senate, and police. Clean up your own acts, then you need no longer fear free and unfettered speech.
David Drukaroff NJ I have tried to win exoneration for a wrongfully convicted inmate for the last 25 years. People have a right to know how this inmate feels.
Chad Sell PA Does anyone care about the constitution anymore?
Katharine Rylaarsdam MD Public officials are servants of the law, not demigods who should be granted unlimited arbitrary power.
Edward Costello CA This is outrageous.
Julimar CastroMN Wrongful and disproportionate convictions exist. To prevent these people from speaking is outrageous. I suspect those proposing this law care more about silencing convicts and preventing them from telling the truth regarding the system, than about the families themselves.
Robert Belknap NC This is theft of rights, pure and simple.
Paul Palla PA Have you heard of the Constitution? You know, that thing that guarantees everybody FREEDOM OF SPEECH??!?
NancyNorton NY I used to visit prisoners in our local jail. It is too easy to forget these people, members of our community and citizens of our county. The right of free speech should not be abridged because a person is serving a sentence in prison or jail. We need to remember these people and not dismiss them as a group we can ignore.
J. R. Jarvis WA I believe in justice, human rights and the constitution - this ain't it!
ralph Calabrese NY Too many of our freedoms are being taken from us.
Sean Murphy FL These abuses of power must be stopped and we must resist the 1% from using criminals and other hot topics to pass laws that ultimately will affect us all.
Sharyn Diaz OR prisons have replaced the poorhouses in America and now you want to silence the common folk...shame on you...all of you who support just another try at control.
r. tippens MA This is a law straight from Stalin's text book. Please...do not embarrass this democracy.
BetseyPiette PA Once again Corbett & Co. will waste millions of tax dollars to defend their criminal violation of citizens' Constitutional Rights but can't find money for public education?
Dave JeckerTX Being a prisoner is bad enough and their punishment is that given to them for their actions. Words should never be silenced and that is a human right. We have seen how governments silent individuals and groups and it leads to nothing except rebellion. Right to speech is everyone's human right, it is not something you can take away.
Samuel Perry NJ Prisoners are on the front line of our civil liberties battles. The rights that oppressive governments first strip from prisoners are the rights the same regimes will later strip from "non-citizens" and finally "citizens" themselves. Free speech doesn't come from Government and cannot be taken away by government. Philadelphia should know that.
DonnaFriedman FL So many in prison for drug use, mental illness and even falsely accused. They should have the right to say what goes on there.
Joanne Snyder CA No lessons learned about corrupt Pennsylvania judges who sentence juvenile offenders in exchange for money? Who is paying for this?
Rev. Jake Harrison TX Freedom of speechdoes not exclude inmates - and some of the most poignant voices in history were those of inmates.
Casey Lyon VT Let us not forget the insightful words of Dostoyevsky: "The degree of civilization in a society can be judged by entering its prisons."
JG Tentler NY This dangerous precedent must not be allowed to be established.It's implications are chilling and are clearly designed to muzzle the free speech of one Political Prisoner,at the expense of every wrongly incarcerated petitioner who is stifled by it.
Carol Stanton NC We must not become a gulag state.
For more information:
Bring Mumia Home
Free Mumia
Text of the bill
This Wednesday is a day of action that some are calling a national day of action against police brutality, with others adding "and mass incarceration," and I'd like to add "and war" and make it global rather than national. This Tuesday, the Governor of Pennsylvania is expected to sign a bill that will silence prisoners' speech, and people are pushing back. A movement is coalescing around reforming police procedures and taking away their military weapons. And a powerful book has just been published called Killing Trayvons: An Anthology of American Violence.
Saving Trayvon Martin would have required systemic reforms or cultural reforms beyond putting cameras on police officers. This young man walking back from a store with candy was spotted by an armed man in an SUV who got out of his vehicle to pursue Trayvon despite having been told not to when he called the police. George Zimmerman was not a police officer, though he wanted to be one. He'd lost a job as a security guard for being too aggressive. He'd been arrested for battery on a police officer. He had left Manassas, Va., and its climate of hatred for Latinos in which he participated, for Florida, where he was a one-man volunteer neighborhood watch group in a gated neighborhood. He'd phoned the police on 46 previous occasions. He apparently expressed his contempt for Trayvon Martin in racist terms. When the police arrived, they let Zimmerman ride in the front seat (no handcuffs, of course) and never tested him for drugs, testing instead the dead black boy he'd murdered. When public outrage finally put Zimmerman on trial, his defense displayed a photo of a white woman living in the neighborhood who had nothing to do with the incident but who was used to represent what Zimmerman had been "defending." He was found innocent.
Killing Trayvons is a rich anthology, including police records, trial transcripts, statements by President Obama, accounts of numerous similar cases, essays, poetry, and history and analysis of how we got here . . . and how we might get the hell out of here.
Recently I was playing a game with my little boy that must have looked to any observer like I was secretly spying on people. I found myself thinking that it was a good thing I wasn't black or I'd risk someone reporting me to the police, and I'd find myself struggling to explain the situation to them rather than yelling at them, and they wouldn't listen. "What do I tell my son," wrote Talib Kweli, "He's 5 years old and he's still thinking cops are cool / How do I break the news that when he gets some size / He'll be perceived as a threat and see the fear in their eyes." I remember a character of James Baldwin's explaining to a younger brother on the streets of New York that when walking in the rich part of town you must always keep your hands in your pockets so as not to be accused of touching a white woman. But a set of rules devised by Etan Thomas in Killing Trayvons includes: "Keep your hands visible. Avoid putting them in your pockets." Opposite advice, same injustice. I can recall how offended I was when, as a young white man, I became old enough for a strange woman in a deserted place to hurry away from me in panic. Maybe if I'd been black someone would have prepared me for that. Maybe I'd have experienced it a lot earlier. Maybe I'd have experienced it as racist. Maybe it would have been. But would I have come around to the conclusion, as I have, that there's nothing I have a right to be indignant about, that people's fear -- wherever it comes from -- is more important to reduce than other people's annoyance?
But what about fear that leads to murder? What about white fear of black violence that leads to the killing of so many African Americans -- and many of them women, suggesting that fear isn't all there is to it? Police and security guards kill hundreds of African Americans each year, most of them unarmed. In most cases, the killers claim to have felt threatened. In most cases they escape any accountability. Clearly this is a case of fear to be doubted and treated with appropriate skepticism, fear to be understood and sympathized with where real, but fear never to be respected as reasonable or justified.
We need a combination of addressing the fear through enlightenment and impeding the violence with application of the rule of law in a manner that does not treat murdering black kids as what any reasonable person would do. We need to rein in and hold accountable individuals and institutions -- groups like the NRA and ALEC that push racist policies on us. Police and neighbors should not see a black boy as an intruder in his own house when his foster parents are white. They also shouldn't spray chemical weapons in someone's face before asking him questions.
The editors of Killing Trayvons, Kevin Alexander Gray, Jeffrey St. Clair, and JoAnn Wypijewski put killing in context. What if Trayvon actually got into a fight with his stalker superhero? Would that have been a good reason to kill him? "It takes a jacked-up disdain for proportionality to conclude the execution is a reasonable response to a fistfight. And yet . . . high or low, power teaches such disdain every day. Lose two towers; destroy two countries. Lose three Israelis; kill a couple thousand Palestinians. Sell some dope; three strikes, you're out. Sell a loosey; choke, you're dead. Reach for your wallet; bang, you're dead. Got a beef; bang, you're dead."
This is exactly the problem. High and low includes supreme courts that kill black men like Troy Davis, and presidents who kill dark-skinned Muslim foreigners (some of them U.S. citizens) with drones, leading Vijay Prashad to call Zimmerman a domestic drone and Cornel West to call President Obama a global Zimmerman. Two bizarre varieties of murder have been legalized at the same time in the United States. One is Stand-Your-Ground killing justified by fear and applied on a consistently racist basis. The other is drone missile killing justified by fear and applied on a consistently racist basis. Both types of murder are much more obviously murder than other instances that have not been given blanket legalization.
Stand-your-ground murders are facilitated by racism; and racist propaganda that blames the victims protects the killers after the fact. Drone murders are driven by profit, politics, power lust, and racism; and the guilt of President Obama is sheltered by the prevalence of racist hatred for him -- which comes from generally the same group of people who support stand-your-ground laws. (How can Obama be guilty of any wrong in overseeing a global kill list, when racists hate him?) Millions of Americans think of themselves as above the ignorant whites who fear every black person they see, and yet have swallowed such a fear of ISIS that even giving ISIS a war it wants and benefits from seems justified. After all, ISIS is barbaric. If it were civilized, ISIS wouldn't behead people; it would have its hostages commit suicide while handcuffed in the backseat of police cars.
Tom Engelhardt keeps churning out great books by collecting his posts from TomDispatch.com. His latest book, Shadow Government, is essential reading. Of the ten essays included, eight are on basically the same topic, resulting in some repetition and even some contradiction. But when things that need repeating are repeated this well, one mostly wants other people to read them -- or perhaps to have them involuntarily spoken aloud by everybody's iPhones.
We live in an age in which the most important facts are not seriously disputed and also not seriously known or responded to.
The United States' biggest public program of the past 75 years, now outstripping the rest of the world combined, is war preparations. The routine "base" military spending, not counting spending on particular wars, is at least 10 times the war spending, or enough to totally transform the world for the better. Instead it's used to kill huge numbers of people, to make the United States less safe, and to prepare for wars that are -- without exception -- lost disastrously. Since the justification of the Soviet Union vanished, U.S. militarism has only increased. Its enemies are small, yet it does its best to enlarge them. U.S. Special Operations forces are actively, if "secretly," engaged in war or war preparations in over two-thirds of the nations on earth. U.S. troops are openly stationed in 90 percent of the nations on earth, and 100 percent of the oceans. A majority of the people in most nations on earth consider the United States the greatest threat to world peace.
The U.S. military has brought death, terror, destruction, and lasting damage to Iraq, Afghanistan, and Libya -- and spilling out of Libya into Mali, sparked a Sunni-Shiite civil war in Iraq that has spread to Syria, rendered Pakistan and Yemen more violent and insecure with drone strikes, and fueled violence in Somalia that has spilled across borders.
These facts are well-established, yet virtually incomprehensible to a typical U.S. news consumer. So, if they can be repeated brilliantly and convincingly, I say: the more times the better.
We're rendering the earth uninhabitable, and the October 27, 2014, issue of Time magazine includes a section headlined "Why the Price of Oil Is Falling -- And What It Means for the World." In reality, of course, it means devastation for the world. In Time it means a happy American oil boom, more sales for Saudi Arabia, and a good reason for Russia to rein in its military. Yes, the same Russia that spends 7% of what the United States does on its military. To get a sense of how Russia could rein in that military, here is a video of a Pentagon official claiming that Russia has physically moved closer to NATO (and put little green men into Ukraine).
Years ago I wrote an article for TomDispatch called "Bush's Third Term." Now of course we're into Bush's fourth term, or Clinton's sixth. The point is that presidential power abuses and war-making expand when a president gets away with them, not when a particular party or individual wins an election. Engelhardt explains how Dick Cheney's 1 percent doctrine (justifying war when anything that has a 1% chance of being a danger) has now become a zero percent doctrine (no justification is needed). Along with war today comes secrecy, which encompasses complete removal of your privacy, but also -- Engelhardt notes -- the abandonment of actual secrecy for "covert" operations that the government wants to have known but not to have held to any legal standard.
The White House went to the New York Times prior to President Obama's reelection and promoted the story that Obama personally goes through a list of men, women, and children on Tuesdays and carefully picks which ones to have murdered. There's no evidence that this hurt Obama's reelection.
The Bush White House went to the New York Times and censored until after Bush's reelection, the story that the government was massively and illegally spying on Americans. The Obama White House has pursued a vendetta against whistleblower Edward Snowden for making public the global extent of the spying. While Engelhardt tells this story with the usual suggestion that Snowden let us in on a big secret, I always assumed the U.S. government was doing what people now know it is. Engelhardt points out that these revelations have moved European and Latin American governments against the U.S. and put the fear of major financial losses into Silicon Valley companies known to be involved in the spying.
Engelhardt writes that with the NSA and gang having eliminated our privacy, we can now eliminate theirs by publicizing leaked information. At the same time, Engelhardt writes that dozens of Snowdens would be needed for us to begin to find out what the U.S. war machine is doing. Perhaps the point is that the dozens of Snowdens are inevitable. I hope so, although Engelhardt explicitly says that the shadow government is an "irreversible way of life." I certainly hope not, or what's the point of opposing it?
Engelhardt notes that the U.S. government has turned against massive ground wars, but not against wars, so that we will be entering an era of "tiny wars." But the tiny wars may kill in significant numbers compared with wars of centuries gone by, and may spark wars by others that rage on indefinitely. Or, I would add, we might choose to stop every war as we stopped the Syrian missile crisis of 2013.
Engelhardt pinpoints a moment when a turning point almost came. On July 15, 1979, President Jimmy Carter proposed a massive investment in renewable energy. The media denounced his speech as "the malaise speech." "In the end, the president's energy proposals were essentially laughed out of the room and ignored for decades." Six months later, on January 23, 1980, Carter announced that "an attempt by any outside force to gain control of the Persian Gulf region will be regarded as an assault on the vital interests of the United States of America, and such an assault will be repelled by any means necessary, including military force." The media took this speech quite seriously and respectfully, labeling it the Carter Doctrine. We've been having increasing trouble with people whose sand lies over our oil ever since.
It seems like we just got through dealing with the argument that war is good for us because it brings peace. And along comes a very different twist, combined with some interesting insights. Here's a blog post by Joshua Holland on Bill Moyers' website.
"War has long been seen as an endeavor urged on by the elites who stood the most to gain from conflict – whether to protect overseas assets, create more favorable conditions for international trade or by selling materiel for the conflict – and paid for with the blood of the poor, the cannon fodder who serve their country but have little direct stake in the outcome.

". . . MIT political scientist Jonathan Caverley, author of Democratic Militarism Voting, Wealth, and War, and himself a US Navy veteran, argues that increasingly high-tech militaries, with all-volunteer armies that sustain fewer casualties in smaller conflicts, combine with rising economic inequality to create perverse incentives that turn the conventional view of war on its head. . . .
"Joshua Holland: Your research leads to a somewhat counterintuitive conclusion. Can you give me your thesis in a nutshell?

"Jonathan Caverley: My argument is that in a heavily industrialized democracy like the United States, we have developed a very capital intensive form of warfare. We no longer send millions of combat troops overseas – or see massive numbers of casualties coming home. Once you start going to war with lots of airplanes, satellites, communications – and a few very highly trained special operations forces — going to war becomes a check writing exercise rather than a social mobilization. And once you turn war into a check writing exercise, the incentives for and against going to war change.

"You can think of it as a redistribution exercise, where people who have less income generally pay a smaller share of the cost of war. This is especially important at the federal level. In the United States, the federal government tends to be funded largely from the top 20 percent. Most of the federal government, I'd say 60 percent, maybe even 65 percent, is financed by the wealthy.

"For most people, war now costs very little in terms of both blood and treasure. And it has a redistributive effect.

"So my methodology is pretty simple. If you think that your contribution to conflict will be minimal, and see potential benefits, then you should see an increased demand for defense spending and increased hawkishness in your foreign policy views, based on your income. And my study of Israeli public opinion found that the less wealthy a person was, the more aggressive they were in using the military."
Presumably Caverley would acknowledge that U.S. wars tend to be one-sided slaughters of people living in poor nations, and that some fraction of people in the United States are aware of that fact and oppose wars because of it. Presumably he is also aware that U.S. troops still die in U.S. wars and are still drawn disproportionately from the poor. Presumably he is also aware (and presumably he makes all of this clear in his book, which I have not read) that war remains extremely profitable for an extremely elite group at the top of the U.S. economy. Weapons stocks are at record heights right now. A financial advisor on NPR yesterday was recommending investing in weapons. War spending, in fact, takes public money and spends it in a way that very disproportionately benefits the extremely wealthy. And while public dollars are progressively raised, they are far less progressively raised than in the past. War-preparations spending is in fact part of what drives the inequality that Caverley says drives low-income support for wars. What Caverley means by his claim that war is (downwardly) redistributive is made a bit clearer further on in the interview:
"Holland: In the study you point out that most social scientists don't see military spending as having a redistributive effect. I didn't understand that. What some call "military Keynesianism" is a concept that's been around for a long time. We located a ton of military investments in the Southern states, not only for defense purposes, but also as a means of regional economic development. Why don't people see this as a massive redistribution program?

"Caverley: Well, I agree with that construction. If you watch any congressional campaign or you look at any representative's communication with his or her constituents, you will see that they talk about getting their fair share of defense spending.

"But the larger point is that even if you don't think about defense spending as a redistributive process, it is a classic example of the kind of public goods that a state provides. Everyone benefits from defense of the state – it's not just rich people. And so national defense is probably one of the places you're most likely to see redistributive politics, because if you're not paying too much for it, you're going to ask for more of it."
So, at least part of the idea seems to be that wealth is being moved from wealthy geographical sections of the United States to poorer ones. There is some truth to that. But the economics is quite clear that, as a whole, military spending produces fewer jobs and worse paying jobs, and has less overall economic benefit, than education spending, infrastructure spending, or various other types of public spending, or even tax cuts for working people -- which are by definition downwardly redistributive as well. Now, military spending can drain an economy and be perceived as boosting an economy, and the perception is what determines support for militarism. Similarly, routine "normal" military spending can carry on at a pace of over 10-times specific war spending, and the general perception on all sides of U.S. politics can be that it is the wars that cost large amounts of money. But we should acknowledge the reality even when discussing the impacts of the perception.
And then there's the notion that militarism benefits everyone, which conflicts with the reality that war endangers the nations that wage it, that "defense" through wars is in fact counter-productive. This, too, should be acknowledged. And perhaps -- though I doubt it -- that acknowledgement is made in the book.
Polls show generally diminishing support for wars except in particular moments of intense propaganda. If in those moments it can be shown that low-income U.S.ians are carrying a larger load of war support, that should indeed be examined -- but without assuming that war supporters have good reason for giving their support. Indeed, Caverley offers some additional reasons why they might be misguided:
"Holland: Let me ask you about a rival explanation for why poor people might be more supportive of military action. In the paper, you mention the idea that less wealthy citizens may be more prone to buy into what you call the "myths of empire." Can you unpack that?
"Caverley: In order for us to go to war, we have to demonize the other side. It's not a trivial thing for one group of people to advocate killing another group of people, no matter how callous you think humanity might be. So there is typically a lot of threat inflation and threat construction, and that just goes with the territory of war.

"So in my business, some people think that the problem is that elites get together and, for selfish reasons, they want to go to war. That's true whether it's to preserve their banana plantations in Central America or sell weapons or what have you.

"And they create these myths of empire — these inflated threats, these paper tigers, whatever you want to call it — and try to mobilize the rest of the country to fight a conflict that may not necessarily be in their interest.

"If they were right, then you would actually see that people's foreign policy views – their idea of how great a threat is — would correlate with income. But once you control for education, I didn't find that these views differed according to what your wealth or income is."
This seems a little off to me. There is no question that Raytheon executives and the elected officials they fund will see more sense in arming both sides of a war than the average person of any income or education level will tend to see. But those executives and politicians are not a statistically significant group when talking broadly about the rich and poor in the United States. Most war profiteers, moreover, are likely to believe their own myths, at least when speaking with pollsters. That low-income Americans are misguided is no reason to imagine that upper-income Americans are not misguided too. Caverley also says:
"What was interesting to me is that one of the best predictors of your desire to spend money on defense was your desire to spend money on education, your desire to spend money on healthcare, your desire to spend money on roads. I was really shocked by the fact that there is not much of a 'guns and butter' tradeoff in the minds of most respondents in these public opinion polls."
This seems exactly right. No large number of Americans has managed in recent years to make the connection between Germany spending 4% of U.S. levels on its military and offering free college, between the U.S. spending as much as the rest of the world combined on war preparations and leading the wealthy world in homelessness, food-insecurity, unemployment, imprisonment, and so on. This is in part, I think, because the two big political parties favor massive military spending, while one opposes and the other supports various smaller spending projects; so a debate develops between those for and against spending in general, without anyone ever asking "Spending on what?"
Speaking of myths, here's another one that keeps the bipartisan support for militarism rolling:
"Holland: The bumper sticker finding here is that your model predicts that as inequality increases, average citizens will be more supportive of military adventurism, and ultimately in democracies, this may lead to more aggressive foreign policies. How does this jibe with what's known as "democratic peace theory" — the idea that democracies have a lower tolerance for conflict and are less likely to go to war than more authoritarian systems?

"Caverley: Well, it depends on what you think is driving democratic peace. If you think it's a cost-avoidance mechanism, then this doesn't bode well for the democratic peace. I'd say most people I talk to in my business, we're pretty sure democracies like to fight lots of wars. They just tend not to fight with each other. And probably the better explanations for that are more normative. The public is just not willing to support a war against another public, so to speak.

"To put it more simply, when a democracy has the choice between diplomacy and violence to solve its foreign policy problems, if the cost of one of these goes down, it's going to put more of that thing in its portfolio."
This is truly a lovely myth, but it collapses when put into contact with reality, at least if one treats nations like the United States as being "democracies." The United States has a long history of overthrowing democracies and engineering military coups, from 1953 Iran up through present day Honduras, Venezuela, Ukraine, etc. The idea that so-called democracies don't attack other democracies is often expanded, even further from reality, by imagining that this is because other democracies can be dealt with rationally, whereas the nations that ours attacks only understand the so-called language of violence. The United States government has too many dictators and kings as close allies for that to hold up. In fact it is resource-rich but economically poor countries that tend to be attacked whether or not they are democratic and whether or not the people back home are in favor of it. If any wealthy Americans are turning against this type of foreign policy, I urge them to fund advocacy that will replace it with a more effective and less murderous set of tools.
https://soundcloud.com/davidcnswanson/talk-nation-radio-charles-lewis-on-935-lies-and-media-decline
Charles Lewis has been an investigative producer for ABC News and the CBS news program 60 Minutes. He founded The Center for Public Integrity. He is executive editor of the Investigative Reporting Workshop at the American University School of Communication. And he is the author of 935 Lies: The Future of Truth and the Decline of America's Moral Integrity. We discuss his book.
Total run time: 29:00
Host: David Swanson.
Producer: David Swanson.
Music by Duke Ellington.
Download from Archive or LetsTryDemocracy.
Pacifica stations can also download from AudioPort.
Syndicated by Pacifica Network.
Please encourage your local radio stations to carry this program every week!
Please embed the SoundCloud audio on your own website!
Past Talk Nation Radio shows are all available free and complete at
http://TalkNationRadio.org
When New York Times reporter James Risen published his previous book, State of War, the Times ended its delay of over a year and published his article on warrantless spying rather than be scooped by the book. The Times claimed it hadn't wanted to influence the 2004 presidential election by informing the public of what the President was doing. But this week a Times editor said on 60 Minutes that the White House had warned him that a terrorist attack on the United States would be blamed on the Times if one followed publication -- so it may be that the Times' claim of contempt for democracy was a cover story for fear and patriotism. The Times never did report various other important stories in Risen's book.
One of those stories, found in the last chapter, was that of Operation Merlin -- possibly named because only reliance on magic could have made it work -- in which the CIA gave nuclear weapon plans to Iran with a few obvious changes in them. This was supposedly supposed to somehow slow down Iran's nonexistent efforts to build nuclear weapons. Risen explained Operation Merlin on Democracy Now this week and was interviewed about it by 60 Minutes which managed to leave out any explanation of what it was. The U.S. government is prosecuting Jeffrey Sterling for allegedly being the whistleblower who served as a source for Risen, and subpoenaing Risen to demand that he reveal his source(s).
The Risen media blitz this week accompanies the publication of his new book, Pay Any Price. Risen clearly will not back down. This time he's made his dumbest-thing-the-CIA-did-lately story the second chapter rather than the last, and even the New York Times has already mentioned it. We're talking about a "torture works," "Iraq has WMDs," "let's all stare at goats" level of dumbness here. We're talking about the sort of thing that would lead the Obama administration to try to put somebody in prison. But it's not clear there's a secret source to blame this time, and the Department of So-Called Justice is already after Sterling and Risen.
Sterling, by the way, is unheard of by comparison with Chelsea Manning or Edward Snowden or the other whistleblowers Risen reports on in his new book. The public, it seems, doesn't make a hero of a whistleblower until after the corporate media has made the person famous as an alleged traitor. Sterling, interestingly, is a whistleblower who could only be called a "traitor" if it were treason to expose treason, since people who think in those terms almost universally will view handing nuclear plans to Iran as treason. In other words, he's immune from the usual attack, but stuck at the first-they-ignore-you stage because there's no corporate interest in telling the Merlin story.
So what's the new dumbness from Langley? Only this: a gambling-addicted computer hack named Dennis Montgomery who couldn't sell Hollywood or Las Vegas on his software scams, such as his ability to see content in videotape not visible to the naked eye, sold the CIA on the completely fraudulent claim that he could spot secret al Qaeda messages in broadcasts of the Al Jazeera television network. To be fair, Montgomery says the CIA pushed the idea on him and he ran with it. And not only did the CIA swallow his hooey, but so did the principals committee, the membership of which was, at least for a time: Vice President Dick Cheney, former National Security Advisor Condoleezza Rice, So-Called Defense Secretary Donald Rumsfeld, Secretary of State Colin Powell, CIA Director George Tenet, and Attorney General John Ashcroft. Tenet plays his usual role as dumber-than-a-post bureaucrat in Risen's account, but John Brennan is noted as having been involved in the Dennis Montgomery lunacy as well. The Bush White House grounded international flights as a result of Montgomery's secret warnings of doom, and seriously considered shooting planes out of the sky.
When France demanded to see the basis for grounding planes, it quickly spotted a steaming pile of crottin de cheval and let the U.S. know. So, the CIA moved on from Montgomery. And Montgomery moved on to other contracts working on other horse droppings for the Pentagon. And nothing shocking there. "A 2011 study by the Pentagon," Risen points out, "found that during the ten years after 9/11, the Defense Department had given more than $400 billion to contractors who had previously been sanctioned in cases involving $1 million or more in fraud." And Montgomery was not sanctioned. And we the people who enriched him with millions weren't told he existed. Nothing unusual there either. Secrecy and fraud are the new normal in the story Risen tells, detailing the fraudulent nature of drone murder profiteers, torture profiteers, mercenary profiteers, and even fear profiteers -- companies hired to generate hysteria. So forcefully has the dumping of money into militarism been divorced in public discourse from the financial burden it entails that Risen is able to quote Linden Blue, vice chairman of General Atomics, criticizing people who take money from the government. He means poor people who take tiny amounts of money for their basic needs, not drone makers who get filthy rich off the pretense that drones make the world safer.
The root of the problem, as Risen sees it, is that the military and the homeland security complex have been given more money than they can reasonably figure out what to do with. So, they unreasonably figure out what to do with it. This is compounded, Risen writes, by fear so extreme that people don't want to say no to anything that might possibly work even in their wildest dreams -- or what Dick Cheney called the obligation to invest in anything with a 1% chance. Risen told Democracy Now that military spending reminded him of the Wall Street banks. In his book he argues that the big war profiteers have been deemed too big to fail.
Risen tells several stories in Pay Any Price, including the story of the pallets of cash. Of $20 billion shipped to Iraq in $100 bills, he writes, $11.7 billion is unaccounted for -- lost, stolen, misused, or dumped into a failed attempt to buy an election for Ayad Allawi. Risen reports that some $2 billion of the missing money is actually known to be sitting in a pile in Lebanon, but the U.S. government has no interest in recovering it. After all, it's just $2 billion, and the military industrial complex is sucking down $1 trillion a year from the U.S. treasury.
When Risen, like everyone else, cites the cost of recent U.S. wars ($4 trillion over a decade, he says), I'm always surprised that nobody notices that it is the wars that justify the "regular" "base" military spending of another $10 trillion each decade at the current pace. I also can't believe Risen actually writes that "to most of America, war has become not only tolerable but profitable." What? Of course it's extremely profitable for certain people who exert inordinate influence on the government. But "most of America"? Many (not most) people in the U.S. have jobs in the war industry, so it's common to imagine that spending on war and preparations for war benefits an economy. In reality, spending those same dollars on peaceful industries, on education, on infrastructure, or even on tax cuts for working people would produce more jobs and in most cases better paying jobs -- with enough savings to help everyone make the transition from war work to peace work. Military spending radically increases inequality and diverts funding from services that people in many less-militarized nations have. I also wish that Risen had managed to include a story or two from that group making up 95% of U.S. war victims: the people of the places where the wars are waged.
But Risen does a great job on veterans of U.S. torture suffering moral injury, on the extensiveness of waterboarding's use, and on a sometimes comical tale of the U.S. government's infiltration of a lawsuit by 9/11 families against possible Saudi funders of 9/11 -- a story, part of which is given more context in terms of its impact in Afghanistan in Anand Gopal's recent book. There's even a story with some similarity to Merlin regarding the possible sale of U.S.-made drones to U.S. enemies abroad.
These SNAFU collection books have to be read with an eye on the complete forest, of course, to avoid the conclusion that what we need is war done right or -- for that matter -- Wall Street done right. We don't need a better CIA but a government free of the CIA. That the problems described are not essentially new is brought to mind, for me, in reading Risen's book, by the repeated references to Dulles Airport. Still, it is beginning to look as if the Dulles brothers aren't just a secretive corner of the government anymore, but the patron saints of all Good Americans. And that's frightening. Secrecy is allowing insanity, and greater secrecy is being employed to keep the insanity secret. How can it be a "State Secret" that the CIA fell for a scam artist who pretended to see magical messages on Al Jazeera? If Obama's prosecution of whistleblowers doesn't alert people to the danger, at least it is helping sell Jim Risen's books, which in turn ought to wake people up better than a middle-of-the-night visit in the hospital from Alberto Gonzales and Andrew Card.
There's still a thin facade of decency to be found in U.S. political culture. Corrupt Iraqi politicians, in Risen's book, excuse themselves by saying that the early days of the occupation in 2003 were difficult. A New York Times editor told 60 Minutes that the first few years after 9/11 were just not a good time for U.S. journalism. These should not be treated as acceptable excuses for misconduct. As the earth's climate begins more and more to resemble a CIA operation, we're going to have nothing but difficult moments. Already the U.S. military is preparing to address climate change with the same thing it uses to address Ebola or terrorism or outbreaks of democracy. If we don't find people able to think on their feet, as Risen does while staring down the barrel of a U.S. prison sentence, we're going to be in for some real ugliness.
The Nobel Peace Prize is required by Alfred Nobel's will, which created it, to go to "the person who shall have done the most or the best work for fraternity between nations, for the abolition or reduction of standing armies and for the holding and promotion of peace congresses." The Nobel Committee insists on awarding the prize to either a leading maker of war or a person who has done some good work in an area other than peace.
The 2014 prize has been awarded to Kailash Satyarthi and Malala Yousafzay, which is not a person but two people, and they have not worked for fraternity between nations or the abolition or reduction of standing armies but for the rights of children. If the peace prize is to be a prize for random good works, then there is no reason not to give it to leading advocates for the rights of children. This is a big step up from giving it to leading makers of war. But then what of the prize for peace and the mission of ending war that Nobel included in his will in fulfillment of a promise to Bertha von Suttner?
Malala Yousafzay became a celebrity in Western media because she was a victim of designated enemies of Western empire. Had she been a victim of the governments of Saudi Arabia or Israel or any other kingdom or dictatorship being used by Western governments, we would not have heard so much about her suffering and her noble work. Were she primarily an advocate for the children being traumatized by drone strikes in Yemen or Pakistan, she'd be virtually unknown to U.S. television audiences.
But Malala recounted her meeting with U.S. President Barack Obama a year ago and said, "I also expressed my concerns that drone attacks are fueling terrorism. Innocent victims are killed in these acts, and they lead to resentment among the Pakistani people. If we refocus efforts on education, it will make a big impact." So, she actually advocated pursuing education rather than war, and yet the Nobel Committee had not a word to say about that in announcing its selection, focusing on eliminating child labor rather than on eliminating war. The possibility exists then that either of this year's recipients might give an antiwar acceptance speech. There has, after all, only been one pro-war acceptance speech, and that was from President Obama. But many speeches have been unrelated to abolishing war.
Fredrik S. Heffermehl, who has led efforts to compel the Nobel Committee to give the peace prize for peace, said on Friday, "Malala Yousafzay is a courageous, bright and impressive person. Education for girls is important and child labor a horrible problem. Worthy causes, but the committee once again makes a false pretense of loyalty to Nobel and confuses and conceals the plan for world peace that Nobel intended to support.
"If they had wished to be loyal to Nobel they would have stressed that Malala often has spoken out against weapons and military with a fine understanding of how ordinary people suffer from militarism. Young people see this more clearly than the grown ups."
The leading contenders for this year's prize, as speculated in the media, included the Pope who has in fact spoken against all war, abandoning the "just war" idea; and some advocate or other for Japan's Article Nine which forbids war and ought to be a model for other nations but is being threatened in Japan instead. These recipients would at least have bordered on Nobel's ideal, as perhaps might be said for last year's recipient, the Organisation for the Prohibition of Chemical Weapons.
Also on the list was a Russian newspaper supportive of Western aggression, the President of Uruguay for legalizing marijuana, Edward Snowden for leaking evidence of U.S. spying, Denis Mukwege for helping victims of sexual violence, and Chelsea Manning for exposing U.S. war crimes. Manning would have made a certain amount of sense, and her work has probably gone some way toward discouraging war. The same might be said, to a lesser degree, of Snowden. But none of these fit the description in Nobel's will. If the peace prize were actually awarded to a leading peace activist, at this point the world would be rather scandalized and scratch its collective head in wonderment at what the significance could be in that person's work.
Look at this list of recent recipients of a prize meant for peace:
The European Union
Ellen Johnson Sirleaf, Leymah Gbowee and Tawakkol Karman
Liu Xiaobo
Barack H. Obama
Martti Ahtisaari
Intergovernmental Panel on Climate Change (IPCC) and Albert Arnold (Al) Gore Jr.
Muhammad Yunus and Grameen Bank
There you have the two leading makers of war in the world: Obama and the E.U. You have advocates for green energy and small loans and women's rights and human rights. Martti Ahtisaari's prize announcement actually quoted from Nobel's will, but he himself supported NATO and Western militarism.
While good work in other areas can in fact contribute to peace, it is unlikely to do so in the absence of recognition of the goal of peace and of work directly aimed at abolishing war.
The National Priorities Project, a U.S. organization that actually works against militarism, was nominated this year, as no doubt were others relevant to the purpose for which the peace prize was created.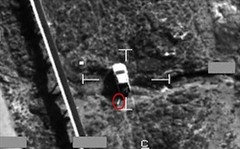 By David Swanson, originally published by
Ron Paul Institute for Peace and Prosperity
Last year, public pressure played a big role in stopping US missile strikes on Syria. The biggest difference between then and now was that televisions weren't telling people that ISIS might be coming to their neighborhood to behead them. There were other, smaller differences as well: Britain's opposition, Russia's opposition, and the difficulty of explaining to Americans that it now made sense to join a war on the same side as al Qaeda.

But there's another big difference between last year and this year. Last year was not a Congressional election year. With elections coming this November, Congress declared an early vacation in September and fled town in order to avoid voting a new war up or down. It did this while fully aware that the President would proceed with the war illegally. Most Congress members, including House Speaker John Boehner and Senate Leader Harry Reid, believe that by allowing a war to happen without explicitly voting for or against it they can best win our votes for re-election without offending their funders.

Congress members have good reason to think that way. Numerous organizations and individuals are dumping endless energy and resources into trying to elect either Democrats or Republicans, regardless of their policies. Big groups on the left have told me that they will not have any time for opposing war until the elections are over, at which point they'll be happy to "hold accountable" any of the Democrats they've just reelected. There are organizations who do the same thing for Republicans.

When war was made the top election issue in exit polls in 2006, Democrats took power and their leader in the House, Rahm Emanuel, openly told the Washington Post that they would keep the war in Iraq going in order to campaign against it again in 2008. And so they did. Republicans elected opposing war in 2010 have been more rhetorical than substantive in their "opposition."

The current war, and the endless war it is part of, must be opposed by people across the political spectrum who put peace ahead of party. ISIS has a one-hour video asking for this war. Giving it to them, and boosting their recruitment, is insanity. Ending insane policies is not a left or right position. This is a war that involves bombing the opposite side in Syria from the side we were told we had to bomb a year ago, and simultaneously arming the same side that the U.S. government is bombing. This is madness. To allow this to continue while mumbling the obvious truth that "there is no military solution" is too great an evil to fit into any lesser-evil electoral calculation.

This war is killing civilians in such large numbers that the White House has announced that restrictions on killing civilians will not be followed. This war is being used to strip away our rights at home. It's draining our economy. It's impoverishing us -- primarily by justifying the routine annual spending of roughly $1 trillion on war preparations. It's endangering us by generating further hatred. And all of this destruction, with no up-side to be found, is driven by irrational fear that has people telling pollsters they believe this war will endanger them and they're in favor of it.

According to the Congressional Research Service 79% of weapons shipments to Middle Eastern countries are from the United States, not counting arms given to allies of ISIS or used by the US military. Rather than arming this region to the teeth and joining in wars with US weapons on both sides, the United States could arrange for and lead an arms embargo. It could also provide restitution for what it has done in recent years, including the destruction of Iraq that allowed the creation of ISIS. Making restitution in the form of actual aid (as opposed to "military aid") would cost a lot less than lobbing $2 million missiles at people who view them as recruitment posters and tickets to martyrdom. That shift would also begin to make the United States liked rather than hated.

We won't get there unless people whose souls are un-owned by political parties take over town hall meetings and let Congress members know that they must work to end this war if they want to earn our votes.

--
David Swanson is an author, activist, journalist, and radio host. He is director of WorldBeyondWar.org and campaign coordinator for RootsAction.org.