---
By David Swanson
Labor unions declined to send a message on their issues or to move other candidates to their positions by backing Kucinich, but it has now become clear that they could have backed Kucinich, and he could have failed just as badly, and labor would have accomplished no less (possibly more) than it accomplished by lining up behind Clinton, Edwards, and Dodd, all of whom have lost to Obama. And Clinton, Edwards, and Dodd could have saved the energy they spent courting labor, for all the good it did them.
By David Swanson
On Sunday evening, two days before the New Hampshire Primaries, with a presidential candidate spouting vacuous dreamy rhetoric behind every snow bank, the good people of New Hampshire took the time to hold two forums on the question of how we can remove the current president and vice president BEFORE January 2009.
By David Swanson
The American Civil Liberties Union (ACLU) of Florida has followed the lead of the ACLU of Central Florida, the ACLU of Monroe County Florida, and the ACLU of the Treasure Coast (Florida), all of which followed the lead of the ACLU of Southern California in backing impeachment and calling for the National ACLU to do the same.
By David Swanson
In a December 31, 2007, editorial, the New York Times faulted the current president and vice president of the United States for kidnapping innocent people, denying justice to prisoners, torturing, murdering, circumventing U.S. and international law, spying in violation of the Fourth Amendment, and basing their actions on "imperial fantasies."
Congressman Mike Michaud, a conservative and Blue Dog Democrat from Maine sent a letter over the holiday break to House Judiciary Committee Chairman John Conyers calling for impeachment hearings of Vice President Dick Cheney.
Numerous peace and justice organizations, including student groups taking advantage of Spring Break, are making plans for a week of actions from March 12th to 19th to mark the end of the fifth year of U.S. occupation in Iraq. Events will culminate in a national day of actions on March 19th, the fifth anniversary of the invasion. Congress members will be home on break, and activists hope to organize nonviolent civil disobedience actions in all 435 congressional districts, as well as nonviolent actions in Washington, D.C., focused on war profiteers.
Building up to the 19th, groups are organizing a week of activities focused on Washington, D.C., and beginning with a day of lobbying and nonviolent civil resistance in Congress on March 12th, combined with a rally and lobbying on the 12th opposing the occupation of Iraq and the U.S. military's plans for Africa.
By David Swanson
I love Dennis Kucinich and think he is far and away the best candidate running for president. He and I are speaking together on a panel in New Hampshire this weekend. But asking his supporters in Iowa to vote for Obama as their second choice makes no sense to me.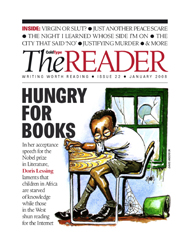 Issue 22:
68 Pages: Sore Losermen, Virgin or Slut, Rigged!, Globalisation: Theirs or Ours?, Are Americans 'Better Than That'?, Absolving Baseball's Owners, A Hunger for Books, Burger King and the Tomato Growers, Passing Around the Painted Pig, Just Another Peace Scare, The City that Said 'No' to America, Qaddafi, Paris and Hypocrites, Liberalisation to Murdochracy, Is Bush Stopped in His Tracks on Iran?, The Night I Learned Whose Side I Was On, Politicising Gaza's Misery, Justifying Murder.
Writers: David Michael Green, Courtney E. Martin, George Monbiot, Susan Rosenthal, Ray McGovern, Dave Zirin, Doris Lessing, Sam Pizzigati, Hal O'Boyle, William Blum, David Swanson, Barry Lando, John Pilger, Chris Hedges, Michael Prysner, Ramzy Baroud, Eli Stephens
By David Swanson
In a surprise and apparently sudden decision Tuesday evening, House Speaker Nancy Pelosi announced the hiring of a new Chief of Staff for her DC office. The choice of someone without any experience on Capitol Hill surprised many observers, leading to speculation as to what changes Pelosi may have in store for the new year.