---

---
ColdType Magazine
& The Reader
(Scroll page for issues - latest at top)
---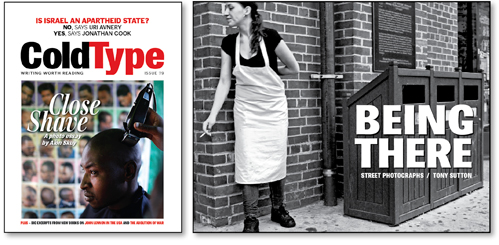 Issue 79
HOLD ON TO YOUR HATS: Our cover story is a whimsical photo essay of barber shops in Johannesburg, South Africa, by Alon Skuy. We've also got two long book excerpts: the first – from James A. Mitchell's The Walrus and the Elephants – offers a glimpse of John Lennon's life as Hippy Messiah after his arrival in New York City in 1970; the second comes from David Swanson's finely-reasoned War No More. We've also got conflicting opinions on whether Israel is or is not an Apartheid State from Uri Avneri and Jonathan Cook; while Chris Hedges wants to get the real class war started, David Edwards looks at the treatment of Glenn Greenwald by the British media, John Pilger writes about the new 'Great Game', and David Cromwell is intrigued by reaction to British comedian Russell Brand's call for revolution. Plus much more.

BEING THERE: Our second offering, BEING THERE – 40-pages of street photography by ColdType editor Tony Sutton - shows that, despite what you may think, not all Canadians are boring.
Click here or on image above to download ColdType magazine
NEW: Also available in on-screen version here
Click here or on image above to download Being There
NEW: Also available in on-screen version here
President Dwight Eisenhower is often admired for having avoided huge wars, having declared that every dollar wasted on militarism was food taken out of the mouths of children, and having warned -- albeit on his way out the door -- of the toxic influence of the military industrial complex (albeit in a speech of much more mixed messages than we tend to recall).
But when you oppose war, not because it murders, and not because it assaults the rights of the foreign places attacked, but because it costs too much in U.S. lives and dollars, then your steps tend in the direction of quick and easy warfare -- usually deceptively cheap and easy warfare.
President Obama and his subordinates are well aware that much of the world is outraged by the use of drones to kill. The warnings of likely blowback and long-term damage to U.S. interests and human interests and the rule of law are not hard to find. But our current warriors don't see a choice between murdering people with drones and using negotiations and courts of law to settle differences. They see a choice between murdering people with drones and murdering people with ground troops on a massive scale. The preference between these two options is so obvious to them as to require little thought.
President Eisenhower had his own cheap and easy tool for better warfare. It was called the Delightfully Deluded Dulles Brothers, and -- in terms of how much thought this pair of brothers gave to the possible outcomes of their reckless assault on the world -- it's fair to call them a couple of drones in a literal as well as an analogous sense.
John Foster Dulles at the State Department and Allen Dulles at the CIA are the subject of a new book by Stephen Kinzer called The Brothers, which ought to replace whatever history book the Texas School Board has most recently imposed on our children. This is a story of two vicious, racist, fanatical jerks, but it's also the story of the central thrust of U.S. public policy for the past 75 years.
The NSA didn't invent sliminess in the 21st century. The Dulles' grandfather and uncle did. Cameras weren't first put on airplanes over the earth when drones were invented. Allen Dulles started that with piloted planes -- the main result being scandal, outrage, and international antagonism -- a tradition we seem intent on keeping up. Oh, and the cameras also revealed that the CIA had been wildly exaggerating the strength of the Soviet Union's military -- but who needed to know that?
The Obama White House didn't invent aggression toward journalism. Allen and Foster Dulles make the current crop of propagandists, censors, intimidators, and human rights abusers look like amateurs singing from an old hymnal they can't properly read.
Black sites weren't created by George W. Bush. Allen Dulles set up secret prisons in Germany, Japan, and the Panama Canal Zone, the MKULTRA program, and the Gladio and other networks of forces staying behind in Europe after World War II (never really) ended.
The Dynamic Dulles Duo racked up quite a resume. They overthrew a democratic government in Iran, installing a fierce dictatorship, and never imagining that the eventual backlash might be unpleasant. Delighted by this -- and intimately in on it, as Kinzer documents -- Eisenhower backed the overthrow of Guatemala's democracy as well -- both of these operations being driven primarily by the interests of Foster Dulles' clients on Wall Street (where his firm had been rather embarrassingly late in halting its support for the Nazis). Never mind the hostility generated throughout Latin America, United Fruit claimed its rights to run Guatemala, and who were the Guatemalans to say otherwise?
Unsatisfied with this everlasting damage, the Dulles Brothers dragged the United States into a war of their own making on Vietnam, sought to overthrow Sukarno in Indonesia, teamed up with the Belgians to murder Lumumba in the Congo, and tried desperately to murder Fidel Castro or start an all-out war on Cuba. The Bay of Pigs fiasco was essentially the result of Allen Dulles' confidence that he could trap a new president (John Kennedy) into expanding a war.
If that weren't enough damage for two careers, the Disastrous Dulles Dimwits created the Council on Foreign Relations, shaped the creation of the United Nations to preserve U.S. imperialism, manufactured intense irrational fear of the Soviet Union and its mostly mythical plots for global domination, convinced Truman that intelligence and operations should be combined in the single agency of the CIA, sent countless secret agents to their deaths for no earthly reason, unwittingly allowed double agents to reveal much of their activities to their enemies, subverted democracy in the Philippines and Lebanon and Laos and numerous other nations, made hysteria a matter of national pride, ended serious Congressional oversight of foreign policy, pointlessly antagonized China and the USSR, boosted radically evil regimes likely to produce future blowback around the world and notably in Saudi Arabia but also in Pakistan -- with predictable damage to relations with India, failed miserably at overthrowing Nasser in Egypt but succeeded in turning the Arab world against the United States, in fact antagonized much of the world as it attempted an unacceptable neutrality in the Cold War, rejected Soviet peace overtures, aligned the U.S. government with Israel, built the CIA headquarters at Langley and training grounds at Camp Peary, and -- ironically enough -- radically expanded and entrenched the military industrial complex to which "covert actions" were supposed to be the easy new alternative (rather as the drone industry is doing today).
The Dulles Dolts were a lot like King Midas if the king's love had been for dogshit rather than gold. As icing on the cake of their careers, Allen Dulles -- dismissed in disgrace by Kennedy who regretted ever having kept him on -- manipulated the Warren Commission's investigation of Kennedy's death in a highly suspicious manner. Kinzer says no more than that, but James Douglass's JFK and the Unspeakable points to other grounds for concern, including Dulles's apparent coverup of Oswald's being an employee of the CIA.
Lessons learned? One would hope so. I would recommend these steps:
Abolish the CIA, and make the State Department a civilian operation.
Ban weaponized drones, and avoid a legacy as bad as the covert operations of the 1950s and 1960s.
Stop the disgustingly royalish habit of supporting political family dynasties.
And rename Washington's international, as well as its national, airport.
The U.N. and Human Rights Watch and Amnesty International recently released a flurry of deeply flawed reports on drone murders. According to the U.N.'s special rapporteur, whose day job is as law partner of Tony Blair's wife, and according to two major human rights groups deeply embedded in U.S. exceptionalism, murdering people with drones is sometimes legal and sometimes not legal, but almost always it's too hard to tell which is which, unless the White House rewrites the law in enough detail and makes its new legal regime public.
When I read these reports I was ignorant of the existence of a human rights organization called Alkarama, and of the fact that it had just released a report titled License to Kill: Why the American Drone War on Yemen Violates International Law. While Human Rights Watch looked at six drone murders in Yemen and found two of them illegal and four of them indeterminate, Alkarama looked in more detail and with better context at the whole campaign of drone war on Yemen, detailing 10 cases. As you may have guessed from the report's title, this group finds the entire practice of murdering people with flying robots to be illegal.
Alkarama makes this finding, not out of ignorance of the endless intricacies deployed by the likes of Human Rights Watch and Amnesty International. Rather, Alkarama adopts the same dialect and considers the same scenarios: Is it legal if it's a war, if it's not a war? Is it discriminate, necessary, proportionate? Et cetera. But the conclusion is that the practice is illegal no matter which way you slice it.
This agrees with Pakistan's courts, Yemen's National Dialogue, Yemen's Human Rights Ministry, statements by large numbers of well-known figures in Yemen, and the popular movement in Yemen protesting the slaughter. While the other "human rights" groups ask President Obama to please lay out what the law is, whether his killing spree is part of a war or not, who counts as a civilian and who doesn't, etc., Alkarama actually compares U.S. actions with existing law and points out that the United States is violating the law and trying to radically alter the law. This conclusion results in a clear and useful set of recommendations at the end of the report, beginning with this recommendation to the U.S. government:
"End extrajudicial executions and the practice of targeted killings by drones and other military means."
This recommendation is strengthened by a better informed and more honest report that much more usefully conveys the recent history of Yemen (including by noting honestly the destructive impact of the IMF and the USA), describes the indiscriminate terror inflicted by the buzzing drones, and contrasts drone murders to alternatives -- such as negotiations. This analysis enriches our understanding of why drone wars are counterproductive even from the point of view of a heartless sociopath rooting for Team USA, much less someone concerned about human rights.
It is, then, possible to write a human rights report from a perspective concerned with the rights of humans, and not some combination of concern with human rights and devotion to U.S. imperialism. This is good news for anyone interested in giving it a try. The field is fairly wide open.
Some nations' statements at the U.N. debate on drones this month, including Brazil's, also challenged the legalization of a new form of war. And all of these groups and individuals have something to say about it as well.
Free Screening of Brand-New Film: Unmanned: America's Drone Wars
This powerful portrait of U.S. drone wars, featuring former pilots, survivors, victims, journalists, lawyers, and activists, was the basis for the first testimony by drone strike survivors in Congress, which happened this week. The film has just been released, following the hearing. An open discussion will follow the screening.
WHEN: 7 p.m. Tuesday, November 5th
WHERE: Charlottesville Friends Meeting, 1104 Forest Street, Charlottesville Va 22903
https://soundcloud.com/davidcnswanson/talk-nation-radio-margaret
Margaret Flowers says the serious problems with Obamacare run deep. Flowers is a Maryland pediatrician who served as Congressional Fellow for Physicians for a National Health Program and is on the board of Healthcare-Now. She is an organizer with PopularResistance.org, co-director of ItsOurEconomy.us and co-host of Clearing the FOG Radio. She serves as Secretary of Health for the Green Shadow Cabinet.

Total run time: 29:00
Host: David Swanson.
Producer: David Swanson.
Music by Duke Ellington.
Download or get embed code from Archive or LetsTryDemocracy.
Pacifica stations can also download from AudioPort.
Syndicated by Pacifica Network.
Please encourage your local radio stations to carry this program every week!
Past Talk Nation Radio shows are all available free and complete at
http://davidswanson.org/talknationradio
This November 11th at 11 a.m. will mark 95 years since World War I ended. Next July 28th will mark 100 years since it started. The world war, the great war, the war for no good reason, the war of poison gas, the war to end all wars, the war of mass stupidity, the war that went on for days after the Germans agreed to end it, the war that continued until 11 a.m. as that time had been set to end it, the war whose last man killed in action was a suicidal American who ran at the Germans at 10:59, the war that in fact was intentionally not ended but extended into mass-punishment of the German people until World War II could be commenced, this century-old piece of historical stupidity that shames our species is about to be commemorated on a serious scale -- so dust off your gas masks and get ready.
A hundred years. A hundred ever-loving years, and we've neither learned that wars don't end wars nor ever really ended World War II, ever brought the troops home from Japan and Germany, ever scaled back the taxation and military spending and foreign basing and war profiteering.
The Last of the Doughboys: The Forgotten Generation and Their Forgotten War by Richard Rubin is 500 pages of excellent history of World War I but without the appropriate rejection of the decision to go to war or the embarrassment one should feel for those who thought they could find glory or goodness by joining in that mass murdering madness. We tend to look down on all sorts of aspects of early 20th century morality. Colonialism, sexism, racism, corporal punishment in schools, creationism -- you name it, we've moved on. Yet writers still recount wars as if the decision to take part in them were neutral or admirable.
In a way this makes sense, given what we're all taught about history. The Khan Academy is a wonderful website for kids (or anyone) to use in learning math. But if you click over to the section on history it's literally nothing but wars. Perhaps they plan to add in a few unimportant things that happened during the pauses in between wars, but they haven't done so yet. It's nothing but war after war after war. That's history. President Kennedy supposedly said Lincoln would have been nothing without the Civil War -- it takes war to make greatness. It takes war to be in the history books.
Richard Rubin found and interviewed the last remaining U.S. veterans of World War I before they died. As he spoke with them their average age was 107. Everything he learned and recorded is of great interest, but much of it is simply about what it's like to become 107. Such a study could have been done of non-veterans. A comparison could have been made of veterans and non-veterans. Or a study like this one could have looked at World War I resisters. That there's not a similar book about them, and now can never be, says little about them and a great deal about all of us. A comparison of the lifespans of veterans and refuseniks would have been an interesting test of the author's theory that going along to get along increases your life.
It is perhaps not too late to track down and interview the last remaining survivors of the strongest peace movement the United States has known -- that of the 1920s and 1930s -- but somebody would have to do it and do it soon.
Perhaps Richard Rubin will take up that idea, but I tend to doubt it. His fascination is with war, not wisdom. And not just his fascination, but most people's. The sad fact is that, in Rubin's telling, these World War I veterans didn't tend to develop an appropriate sense of regret over a period of 85 years. There are, no doubt, cases of slave owners who by 1950 were able to express some regret over slavery. But slavery was on its way out. War is ever on its way in.
Despite my lengthy caveat, The Last of the Doughboys really is an excellent book, for what it is. The discussions of World War I songs and World War I books, and so forth, are quite wonderful. And Doughboys is not blatantly dishonest war hype. It includes the facts about the Lusitania (that Germany had warned Americans not to get on a ship with arms and troops as it would be sunk). It doesn't look closely at the war propaganda, but it is straightforward enough on the clampdown on speech and civil liberties, and the vicious demonization of Germans and the Kaiser. It doesn't mention the Wall Street coup or the name Smedley Butler, but its coverage of the Bonus Army is otherwise good. It doesn't focus on opposition or alternatives, but it does convey the pointlessness of the horror, and it does recount the badly misguided way in which the war was ended.
Yet, ultimately, Rubin is striving to give more credit and honor to warriors unfairly overshadowed by the glorification of World War II. The heroes of the original world war saved the world in the snow and shoeless and uphill both ways. Rubin wants World War I to get its due -- unlike some wars. The war on the Philippines, for example, he calls "not much of" a war, despite the fact that it cost the population involved a greater percentage of its lives than any other U.S. war has inflicted on any other population, including the population of the U.S. -- including in the U.S. Civil War. Go to the Philippines and say it wasn't much of a war, I dare you. It was the model for the costly, pointless, racist, one-sided slaughters of the 21st century. World War I was a model only for its expansion into World War II. Otherwise it's obsolete.
My friend Sandy Davies, who knows this stuff, recently looked up what the costs have been of the ongoing warmaking by the United States since the pair of World Wars. I think it's relevant because every single time I speak about ending war and take questions on the topic I'm asked "What about Hitler?" In the days since Hitler's been gone, as the world has moved on from Hitler-like expansionism, as a great portion of the world has moved away from war, the United States, according to Davies, has spent $37-40 trillion (in 2013 dollars) on war and preparations for war.
There's $32 trillion since 1948 in Department of So-Called-Defense spending documented in http://comptroller.defense.gov/defbudget/fy2014/FY14_Green_Book.pdf plus $780 billion to the War Department in 1946-7 before it was rebranded. Extra funding to the Energy Department, the V.A. and other departments is harder to find, but can be estimated at:
Nuclear weapons (DOE): $1.7 - 3 trillion
V.A.: $1.3 to 2.5 trillion
Other departments: $1 to 2 trillion
Then there's the real cost: 10 to 20 million dead in wars the U.S. has been directly involved in, or 15 to 30 million if you count the DRC, Cambodia, the French War in Indochina, and the Iran-Iraq War. "These numbers are very conservative," says Davies, "based on publicly available estimates, generally ignoring Les Roberts' findings in Rwanda and the DRC that passive reporting methods generally only count 5-20% of deaths in war zones." These figures include:
Korea: 2.5 to 3.5 million
Vietnam: 2 to 4 million
Iraq: 400,000 to 1.5 million
Afghanistan (total): 1 to 2 million
China: 1.75 million
Indonesia: 500,000 to 2 million
Angola: 500,000 to 1 million
Somalia: 300,000 to 500,000
Guatemala: 200,000 to 300,000
Greece: 200,000
East Timor: 100,000 to 220,000
El Salvador: 100,000 to 120,000
Syria: 90,000 to 130,000
Operation Condor: 60,000 to 100,000
Peru: 70,000
Colombia: 50,000 - 200,000
Laos: 40,000 to 100,000
Nicaragua: 30,000 to 55,000
Libya: 25,000 to 50,000
plus smaller numbers in many other countries.
Either we're on a record streak of greatest generations after greatest generations, or we've caught a war addiction so badly that we've come to imagine it's normal, and that -- in fact -- it's all that ever has happened in the world.
"What, quite unmanned in folly?"--Lady MacBeth
The new film Unmanned: America's Drone Wars should be required viewing in all schools and homes in the United States, including the home of the U.S. president who could not be bothered to meet with the child victims of his drones who spoke in Congress this week.
One could even speculate what the appropriate fantasized outcome might be if, Clockwork Orange-style, Obama were compelled to view Unmanned. But fantasies are what got us into this. Former drone pilot Brandon Bryant opens this beautifully made, fast-moving film by describing his childhood comic-book-induced fantasies about "good guys" and bad guys" and how to become a hero. Bryant was up against student debt when a recruiter told him that he could work in a James Bond control center.
Bryant, who faced up to reality too late, comes and goes through the course of a film that shows the suffering of drone victims and drone operators, honestly and accurately, without trying to equate the two.
The testimony of drone victims in D.C. this week was far from the first such testimony anywhere. On October 28, 2011, drone victims testified in Islamabad, Pakistan, where their conference was followed by a huge rally protesting U.S. drone strikes. In this film, we watch 16-year-old Tariq Aziz attend the conference to describe the killing of his cousin. Three days later, Tariq and another cousin are murdered in their car by a U.S. drone.
We see numerous people, including law professor Mary Ellen O'Connell, point out that Aziz could quite easily have been questioned or arrested if he had been suspected of some crime. Obama has killed thousands and captured a handful, and in many cases we know that capture would have been perfectly possible but was not attempted. The U.N.'s special rapporteur last week admitted this is illegal, as are various other types of drone murders, including one that the film focuses in on: signature strikes.
(Why all drone murders are not illegal and immoral, and why we cannot all clearly say as much, is beyond me.)
We see a publicly announced, publicly held, community meeting hit with numerous missiles from drones. Pieces of flesh and debris lie everywhere. Innocents are slaughtered. Tribal elders are killed. People are made afraid to meet each other. Institutions are destroyed. Children are traumatized. Hatred of the United States is inflamed. And -- as always -- the New York Times prints that an anonymous U.S. official claims the victims were terrorists (never mind the lack of any evidence of that).
Pakistan's courts have ruled the drone strikes -- all of them -- illegal, and the CIA guilty of committing murder. Suits have been filed against the U.K. and the U.S. Protests have erupted all over the globe. And experts seem to agree that the drone murders are making Americans less safe, not protecting them. But drone profiteers are raking in the money.
Unmanned names names and shows faces. This film is what the nightly news would look like in a sane nation not addicted to war. You can watch the film and get a copy of it to screen locally. I highly recommend it. And then I recommend doing something about it. Here's a place to start.
By David Swanson and David Hartsough with input from George Lakey, Jan Passion, Mike Ferner, Colleen Kelly, Ruth Benn, Leah Bolger, Nathan Schneider, Hakim, Paul Chappell, Colin Archer, Kathy Kelly, et alia. (none of whom are to blame for shortcomings of this draft). Many groups and individuals are discussing a new project; if you have ideas, let us know.
If unnecessary suffering on an enormous scale is to be avoided, we must abolish war. Some 180 million people died in wars in the 20th century and, while we have not yet repeated a war on the scale of World War II, wars are not going away. Their enormous destruction continues, measured in terms of deaths, injuries, trauma, millions of people having to flee their homes, financial cost, environmental destruction, economic drain, and erosion of civil and political rights.
If humanity is going to survive, we must abolish war. Every war brings with it both massive destruction and the risk of uncontrolled escalation. We are facing a world of greater weapons proliferation, resource shortages, environmental pressures, and the largest human population the earth has seen. In such a turbulent world, we must abolish the organized violence by governments known as war, because its continuation risks our extinction.
If we abolish war, humanity can not only survive and better address the climate crisis and other dangers, but will find it far easier to prosper. The reallocation of resources away from war promises a world whose advantages are beyond easy imagination. Some $2 trillion a year, roughly half from the United States and half from the rest of the world, is devoted to war and war preparation. Those funds could transform global efforts to create sustainable energy, agricultural, economic, health, and education systems. Redirection of war funding could save many times the lives that are taken by spending it on war.
There is a need and an opportunity for a campaign/movement focused specifically on educating and organizing and developing momentum for the abolition of war. A great deal of organizing against particular wars, atrocities, weapons, tactics, and expenditures, could benefit from the existence of an abolition campaign, becoming seen as reasonable partial steps, and in the context of opposition to all war rather than as violations of proper norms of war. Some campaigns might, in fact, differ from what they would otherwise be; we might, for example, oppose the most effective weapons that kill most efficiently rather than the most defective weapons that expose the most corruption.
While abolition is a larger demand than partial disarmament, if the case for it is made convincingly it has the potential to create support for serious and even total disarmament among people who would otherwise favor the maintenance of a large military for defense -- something that we've learned generates pressure for offensive warmaking. The first step in such a campaign must be persuading people of the possibility of, and the urgent need for, abolishing war. Awareness of the effectiveness of nonviolent action, nonviolent movements, and peaceful resolution of conflicts is growing rapidly, creating the increased possibility of persuading people that there is an alternative to war. Anti-war sentiment, at least in some key parts of the world, is at a high point now, relative to other moments in recent decades. This sentiment should be channeled into an abolition movement that takes steps toward reduced warfare while creating an understanding of those steps, not as reforms to a flawed institution that will continue in an improved state, but as progress towards that institution's elimination.
The reduction and eventual elimination of war and of the military industrial complex could be of great benefit to sectors of the world economy and of public services to which that investment could be transferred. There exists the possibility of creating a broad coalition encompassing civilian industries and advocates for green energy, education, housing, healthcare, and other fields, including civil liberties, environmental protections, children's rights, and all over the world cities, counties, and states that have had to make major cuts in social programs for their people, and more. By making war's elimination imaginable, an abolition movement could develop the allies needed to make it a reality.
Resistance, including by those profiting financially from wars, will be intense. Such interests are, of course, not invincible. Raytheon's stock was soaring in the fall of 2013 as the White House planned to send missiles into Syria -- missiles that were not sent. But war abolition will require defeating the propaganda of war promoters and countering the economic interests of war promoters with alternative economic possibilities. A wide variety of support for "humanitarian" and other particular varieties, or imagined varieties, of war will have to be countered with persuasive arguments and alternatives. Creating a resource center that puts the best arguments against various types of war support at people's fingertips will itself be a significant contribution.
By organizing internationally, we can use progress made in one nation to encourage other nations to match or surpass it without fear. By educating people whose governments make war at a distance about the human costs of war (largely one-sided, civilian, and on a scale not widely understood) we can build a broad-based moral demand for an end to war. By presenting the case that militarism and wars make us all less safe and decrease our quality of life, we can strip war of much of its power. By creating awareness of the economic trade-offs, we can revive support for a peace dividend. By explaining the illegality, immorality, and terrible costs of war and the availability of legal, nonviolent and more effective means of defense and conflict resolution, we can build acceptance for what has only relatively recently been made into a radical proposal and ought to be viewed as a common sense initiative: the abolition of war.
While a global movement is needed, this movement cannot ignore or reverse the reality of where the greatest support for war originates. The United States builds, sells, buys, stockpiles, and uses the most weapons, engages in the most conflicts, stations the most troops in the most countries, and carries out the most deadly and destructive wars. By these and other measures, the U.S. government is the world's leading war-maker, and -- in the words of Martin Luther King, Jr. -- the greatest purveyor of violence in the world. Ending U.S. militarism wouldn't eliminate war globally, but it would eliminate the pressure that is driving many other nations to increase their military spending. It would deprive NATO of its leading advocate for and greatest participant in wars. It would cut off the largest supply of weapons to the Middle East and other regions. It would remove the major barrier to a reunification of Korea, and the major barrier to legal consequences for Israeli war-making. It would create U.S. willingness to support arms treaties, join the International Criminal Court, and allow the United Nations to move in the direction of its stated purpose of eliminating war. It would create a world free of nations threatening the first-use of nuclear weaponry, and a world in which nuclear disarmament might proceed more rapidly. Gone would be the last major nation using cluster bombs or refusing to ban land mines. If the United States kicked the war habit, war itself would suffer a major and possibly fatal set-back. For this reason, the war abolition movement around the world will need to be directed at U.S. military bases as well as local governments, and major U.S. wars as much as local militarism.
The structure and funding of this campaign to abolish war is yet to be determined. It could be independent or aligned with or under the auspices of an existing organization or group of organizations. We envision it establishing a decentralized network of various organizations following a common, coordinated strategy. In large part this would consist of adjusting and supporting work that groups are already engaged in to form part of a united front that advances war abolition while advancing smaller steps in war reduction or amelioration, economic conversion or counter-recruitment, nonviolent conflict resolution or the prevention or halting of particular wars.
The establishment of this campaign would begin by exploring possibilities with key people and organizations, a process that might include conference calls and possibly in-person gathering(s). The goal would be to begin the work of building this movement immediately, and to plan an international conference to publicly launch the campaign on or around August 27th, the anniversary of the Kellogg-Briand Pact's signing. There are major peace gatherings planned for Sarajevo in June and South Africa in July that this campaign might soon want to propose to take part in. There is also the date of July 28, 2014, marking 100 years since the launch of the war that was to end all wars and instead brought more of them, a date that this campaign might want to make use of in some way.
The campaign would need a name, a website, an international advisory board, staff, and -- in one manner or another -- organizational and individual members. Such members might agree to a pledge to work for the abolition of war and never to support the waging of war. In developing the name and slogans for the campaign, careful thought and marketing research will be required.
Online and off, the campaign would develop a resource center on war abolition -- meaning, not every aspect of war, but specifically the case (moral, legal, economic, environmental, etc.) for total abolition, including how partial steps in war reduction or amelioration can lead toward abolition and not away from it, including how past wars can be best understood, and including effective peaceful alternatives to war and a peaceful vision of a post-war world. This resource center would eventually also include tools for petition gathering, local and organizational resolutions, legislation, materials for educational events including books and films, a speakers bureau, coordinated days of action, flyers, brochures, posters, creative action ideas, etc.
The abolition movement would develop volunteer and training programs to train organizers to build and strengthen the campaign.
The movement would work on strategies for outreach to a wide variety of constituencies globally.*
The campaign would develop and coordinate with its allies and members a communications strategy including our own media production, efforts to gain coverage by media outlets, and possibly advertising, school text-book reform, and other means of communication and education. We would work to see our media productions used as educational tools. We would advance a vision of a transition to a renewable energy world in which there would be no "need" for wars over oil and in which we could end the danger of global warming and create a good life for every person on the planet.
The movement would work to coordinate with its members partial steps (and movement-building victories) toward abolition, including possibly such approaches as: economic conversion, disarmament, base closures, bans on particular weapons or tactics, promotion of diplomacy including possibly new structures such as Departments of Peace and reform and strengthening of the United Nations, expanding the development of peace teams and human shields into a global nonviolent peaceforce, promotion of nonmilitary foreign aid and crisis prevention, placing restrictions on military recruitment and providing potential soldiers with alternatives, legislation to redirect war taxes into peace work and meeting human needs, and/or promotion of international law. The campaign might work with key allies to develop concrete proposals for how to spend funding redirected from wars and militarism. All of these steps would be presented to the world, not as improvements in war or steps toward "smart wars" or "humanitarian wars" but as key steps in the direction of the end of all wars.
Steps in the direction of abolition that the movement might support include the development of a peace conversion taskforce to help communities make the transition from war making to working to meet human and environmental needs, and expanding the global nonviolent peaceforce of civilian, trained, international, nonviolent peacekeepers and peacemakers who could be available to protect civilians endangered by conflicts in all parts of the world and to help build peace where there is or has been violent conflict. These efforts would help the world to see that there are alternatives to war-making.
The movement would work with its allies or members to create a strategy for the legal abolition of war, possibly including the Kellogg-Briand Pact and the Nuremberg Principles.
The movement would work with relevant members to develop direct action strategies, including vigils, blockades, demonstrations, etc., with global coordination.
Each step along the way cannot be foreseen in any detail, but progress will be somewhat measurable in victories against particular war proposals, in the creation of particular educational or counter-recruitment programs, in disarmament, etc., and in the extent to which these measures are presented and understood as steps toward abolition, as well is in any measurable shifts in public opinion, and in the growth of the campaign, the signers of its pledge or petition, the readers and viewers of its materials, etc. There are always victories and set-backs in the struggle against militarism. Viewing them as part of a process toward abolition may better allow us to see the forest for the trees and determine whether in fact the victories are outpacing the defeats.
*Such constituencies might include people in many parts of the world, key organizers, well-known leaders, peace groups, peace and justice groups, environmental groups, human rights groups, activist coalitions, lawyers, philosophers/moralists/ethicists, doctors, psychologists, religious groups, economists, labor unions, diplomats, towns and cities and states or provinces or regions, nations, international organizations, the United Nations, civil liberties groups, media reform groups, business groups and leaders, billionaires, teachers groups, student groups, education reform groups, government reform groups, journalists, historians, women's groups, senior citizens, immigrant and refugee rights groups, libertarians, socialists, liberals, Democrats, Republicans, conservatives, veterans, student- and cultural-exchange groups, sister-cities groups, sports enthusiasts, and advocates for investment in children and healthcare and in human needs of every sort, as well as those working to oppose contributors to militarism in their societies, such as xenophobia, racism, machismo, extreme materialism, all forms of violence, lack of community, and war profiteering.